Calendar & Events
Discover all the events the Clear Lake Public Library offers for the community and its members.
For information and access to Virtual Events, check out our Facebook page!
Don't have Facebook? Check out our YouTube channel for some library videos!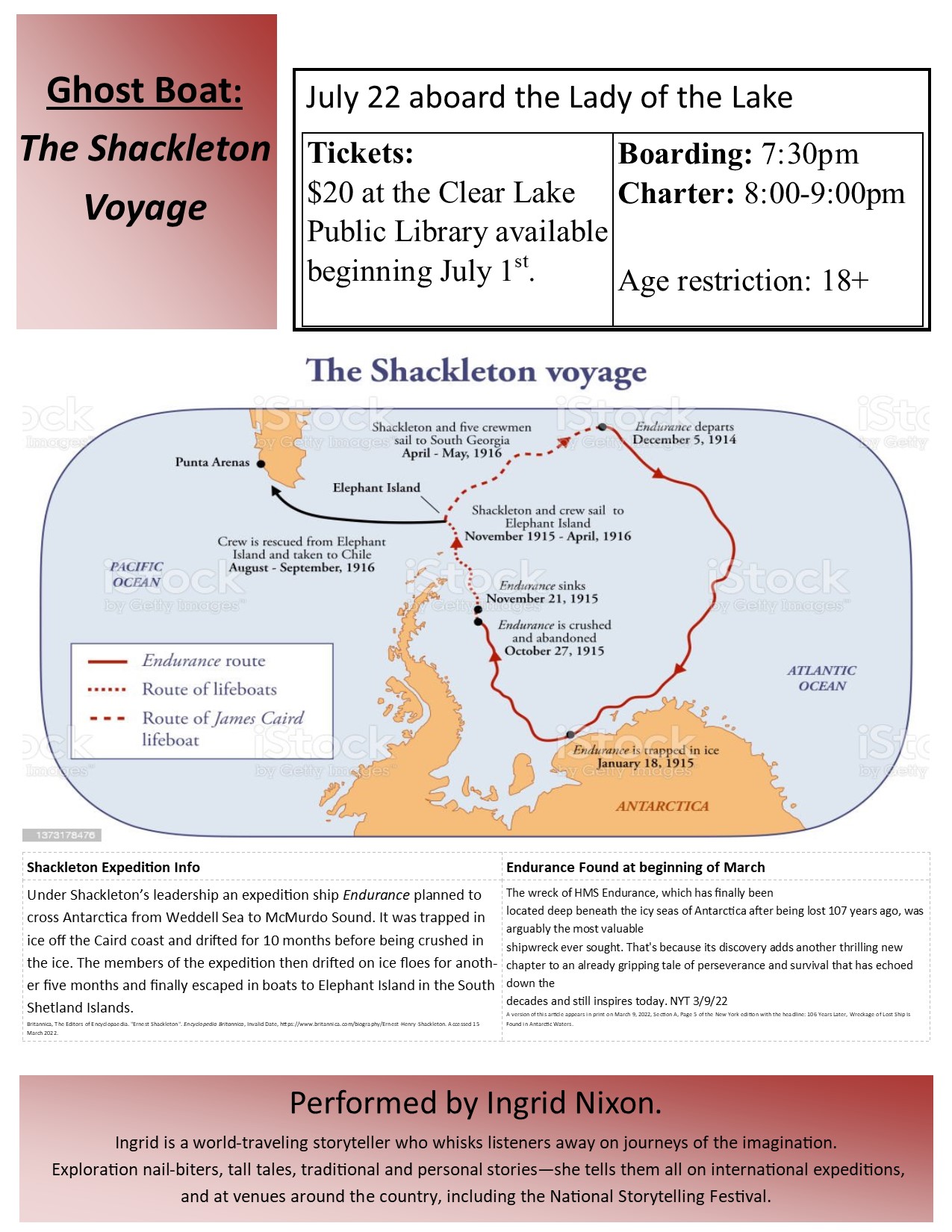 Ghost Boat The Shackleton Voyage performed by Ingrid Nixon
July 22, 2022 @ 7:30 pm

-

9:30 pm
Ghost Boat
The Shackleton Voyage performed by Ingrid Nixon
July 22 aboard the Lady of the Lake
Boarding: 7:30pm
Charter: 8:00-9:00pm
Age restriction: 18+
Tickets: $20 at the Clear Lake Public Library available beginning July 1st.
About the Shackleton Voyage
Under Shackleton's leadership an expedition ship Endurance planned to cross Antarctica from Weddell Sea to McMurdo Sound. It was trapped in ice off the Caird coast and drifted for 10 months before being crushed in the ice. The members of the expedition then drifted on ice floes for another five months and finally escaped in boats to Elephant Island in the South Shetland Islands. Britannica, The Editors of Encyclopaedia. "Ernest Shackleton". Encyclopedia Britannica, Invalid Date, https://www.britannica.com/biography/Ernest-Henry-Shackleton. Accessed 15 March 2022.
The wreck of HMS Endurance, which has finally been
located deep beneath the icy seas of Antarctica after being lost 107 years ago, was arguably the most valuable shipwreck ever sought. That's because its discovery adds another thrilling new chapter to an already gripping tale of perseverance and survival that has echoed down the decades and still inspires today. NYT 3/9/22
A version of this article appears in print on March 9, 2022, Section A, Page 5 of the New York edition with the headline: 106 Years Later, Wreckage of Lost Ship Is Found in Antarctic Waters.
About Ingrid Nixon
Ingrid Nixon is a world-traveling storyteller who whisks listeners away on journeys of the imagination. Exploration nail-biters, tall tales, traditional and personal stories—she tells them all on international expeditions, and at venues around the country, including the National Storytelling Festival. Her creative approaches to story crafting help make ancient tales relevant to modern audiences. Lost Hearts and Other Creepy Stories is perfect for a dark and stormy night. She holds a Masters in Storytelling from East Tennessee State University. She hails from Alaska.
Share This Story, Choose Your Platform!