Learn about some of our new books from our Youth Services Librarian.
Keep checking back for NEW books!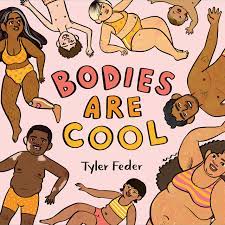 Bodies are Cool
by Tyler Feder
This picture book is a pure celebration of all the different human bodies that exist in the world. Highlighting the various skin tones, body shapes, and hair types is just the beginning in this truly inclusive book. With its joyful illustrations and encouraging refrain, it will instill body acceptance and confidence in the youngest of readers. "My body, your body, every different kind of body! All of them are good bodies! BODIES ARE COOL!"
Verdict:  Body positivity starts at a young age and this book introduces the concept well.  See and read about all kinds of different bodies in this wonderful book that embraces diversity.  Bodies are pretty cool, no matter what they look like!
Find it: NEW PIC FED
The Rice in the Pot Goes Round and Round
By Wendy Wan-Long Shang
At the table where this family gathers, they share food, laughter, and, most of all, love. Readers of all ages are sure to delight in this joyful, expressive sing-along, slurping noodles, squishing tofu, and tapping chopsticks as they sing along to this familiar tune.
Verdict:  Join a Chinese family for dinner while singing the book to the tune of "The Wheels On The Bus."  Children will have fun slurping like Ye Ye and stirring the rice round and round.
Find it: NEW PIC SHA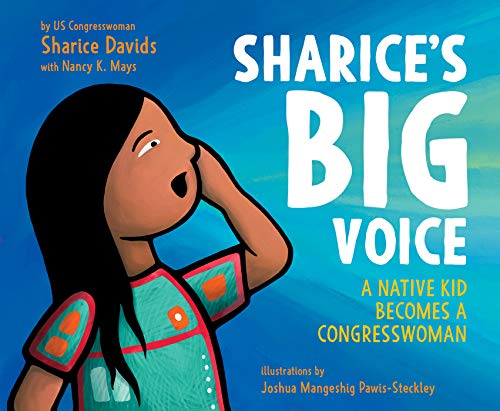 Sharice's Big Voice
By Sharice Davids
When Sharice Davids was young, she never thought she'd be in Congress. And she never thought she'd be one of the first Native American women in Congress. During her campaign, she heard from a lot of doubters. They said she couldn't win because of how she looked, who she loved, and where she came from. But here's the thing: Everyone's path looks different and everyone's path has obstacles. And this is the remarkable story of Sharice Davids' path to Congress.
Verdict:  Sharice Davids made history in 2018 as one of the first two Native women elected to Congress.  This book tells that story, but focuses a lot on reinforcing to young readers that EVERYONE faces obstacles on their journey (some more than others), and you have to be true to yourself.  This picture book biography is great for elementary school readers (and adults!).
Find it: NEW J B DAV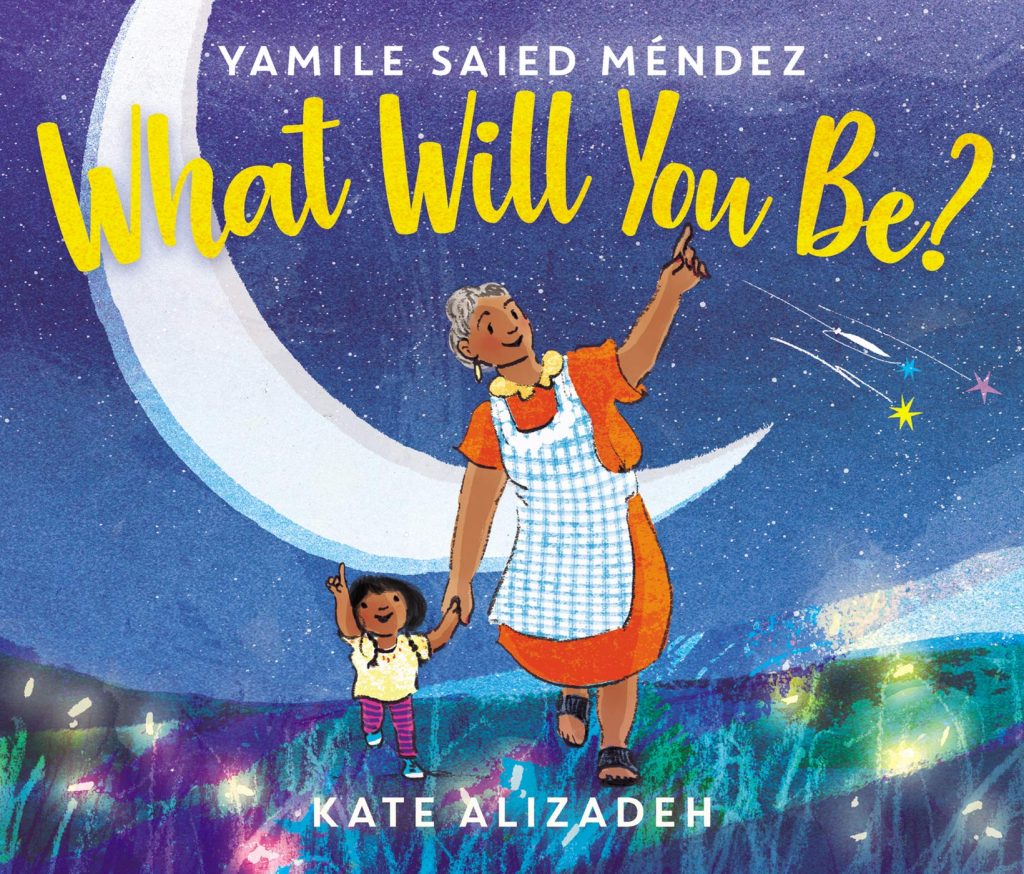 What Will You Be?
by Yamile Saied Mendez
What will you be when you grow up?
A young girl dreams about all the endless possibilities, sparking a sense of wonder, curiosity, and growth. With her abuela's loving guidance, she learns her potential is limitless.
Verdict: Who hasn't been asked,"What will you be when you grow up?"  I know I have, and I think I'm still trying to answer that question.  This book is beautifully illustrated and the lyrical text guides you through the little girl's dreams of what she thinks she will be when she grows up.
Find it: NEW PIC MEN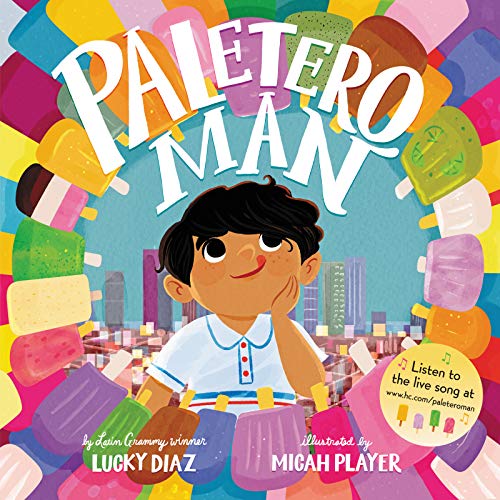 Paletero Man
by Lucky Diaz
Ring! Ring! Ring! Can you hear his call? Paletas for one! Paletas for all!  What's the best way to cool off on a hot summer day? Run quick and find Paletero José!
Follow along with our narrator as he passes through his busy neighborhood in search of the Paletero Man. But when he finally catches up with him, our narrator's pockets are empty. Oh no! What happened to his dinero? It will take the help of the entire community to get the tasty treat now.
Verdict: A fun bilingual picture book for summer!  Included in the search for the ice cream man are themes of kindness and community.  If you could pick, what flavor paleta treat would you get?
For even more fun, listen to the song online when you read the book!
Find it: NEW PIC DIA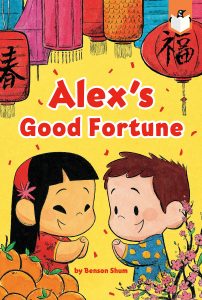 Alex's Good Fortune
by Benson Shum
Chinese New Year is the most important holiday for Alex and her family, so it's even more special when she gets to share her favorite traditions with her best friend, Ethan. Together, they join the Chinese New Year parade, prepare for the festivities, open the red envelopes, eat a great big feast, and enjoy the lantern festival!
Verdict: A great introduction to Chinese New Year and the weeks-long celebration that occurs.  At the end there is some information about the Chinese zodiac, which each animal represents, and also some bilingual Chinese New Year wishes!
Find it: NEW E SHU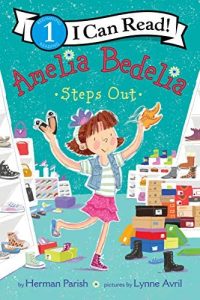 Amelia Bedelia Steps Out
by Herman Parish
Amelia Bedelia and her mother need new shoes, but Amelia Bedelia adores her comfy, broken-in sneakers. But the shoe is on the other foot when Amelia Bedelia spots the perfect pair—only to find out that they belong to Mary Jane!
Verdict: Every child has to go shoe shopping at some point, and Amelia Bedelia certainly makes it comical.  Good luck getting through the book without chuckling at least once!

Find it: NEW E PAR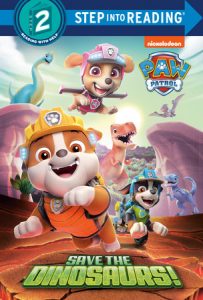 Save the Dinosaurs!
PAW Patrol
PAW Patrol is on a roll! The dinosaur eggs are missing. It is up to the pups to save them.
Verdict: Nickelodeon's favorite pups are back with a BIG mission.  Meet the new team member, Rex, and travel through the waterfall to the land of the dinosaurs in this fun new PAW Patrol adventure.  Every dog and dinosaur lover will enjoy this easy reader.
Find it: NEW E PAW
Biscuit and the Little Llamas
by Alyssa Satin Capucilli
It's spring on the farm. Join the beloved and bestselling little yellow puppy, Biscuit, as he makes friends with the piglets, the lambs, the chicks, and even the little llamas!
Verdict: A nice spring-time book featuring the beloved puppy, Biscuit, and all the farm animals. Young children will love imitating Biscuit as he "woofs" his way through the farmyard.

Find it: NEW E CAP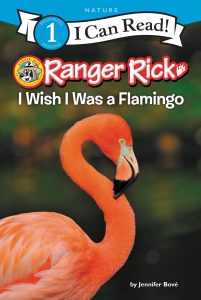 I Wish I Was a Flamingo
by Jennifer Bove
What if you wished you were a flamingo and then you became one? Could you eat like a flamingo? Talk like a flamingo? Grow up in a flamingo family? And would you want to? Find out!
Verdict: Learn all about flamingos in this new Ranger Rick book.  Amazing photographs span every page and bring the book to life. The end contains even more facts and a fun activity to do together.
Find it: NEW E 598.3 BOV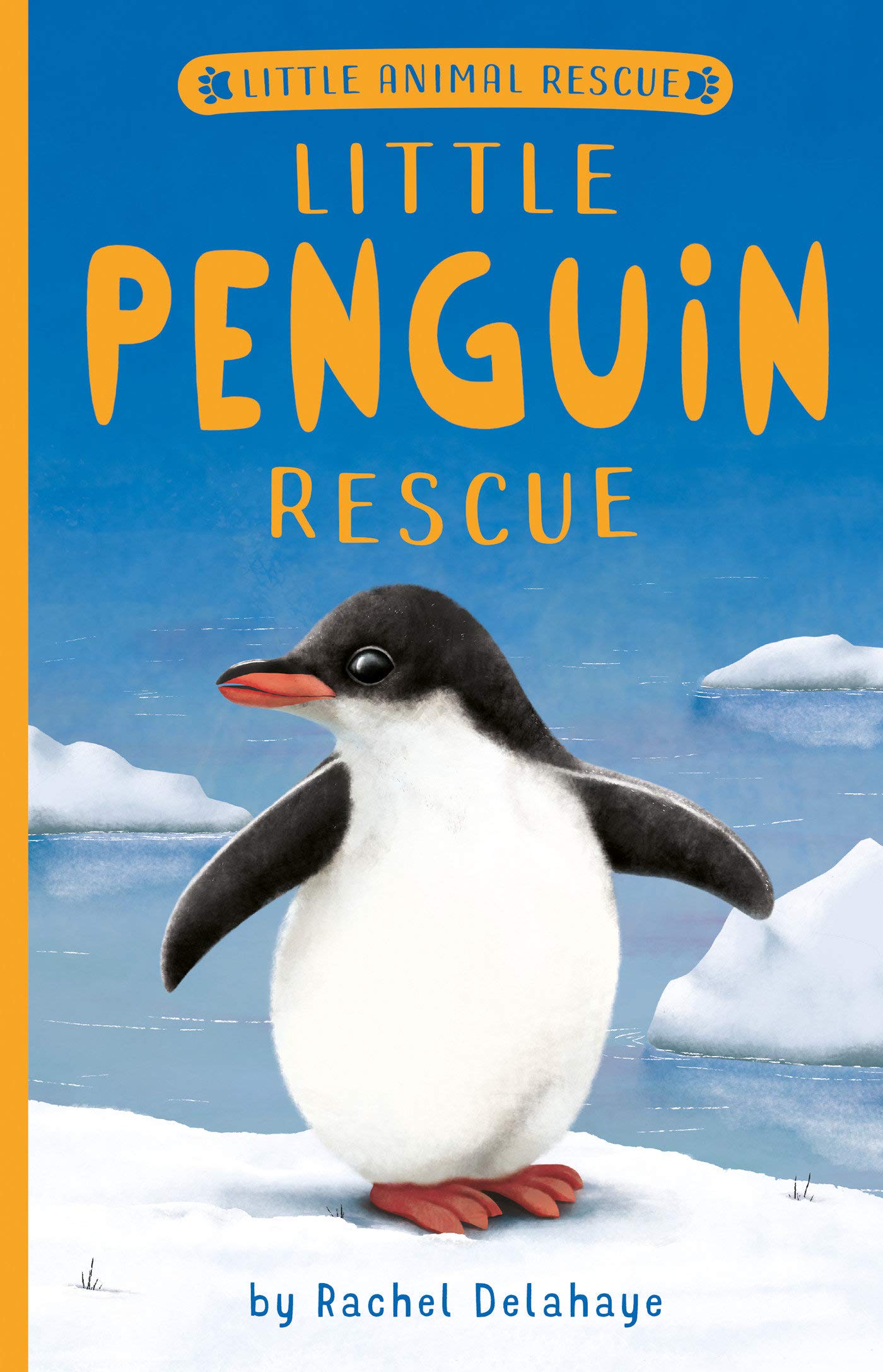 Little Penguin Rescue
(Little Animal Rescue series)
By Rachel Delahaye
While in the middle of a snowball fight, Callie is magically whisked away to the Antarctic where she is thrilled to meet a colony of penguins, ready to march north for the winter! But then a blizzard blows in, separating a baby penguin and its injured mother from the group. Can Callie battle the icy cold and a sea full of predators to save her feathery friends?
Verdict: It's not clear why Callie has been chosen to go on these animal adventures and save wildlife, but readers will enjoy traveling with her.  Perfect for early elementary readers that are looking for a story with illustrations scattered throughout, the reader will also learn a few things about the animal featured in the book – in this case, the Adelie penguin.  This series would also make a great family read-aloud!
Find it: NEW J FIC DEL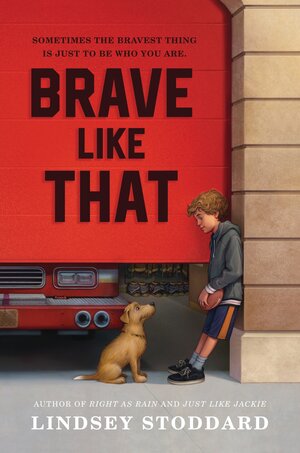 Brave Like That
By Lindsey Stoddard
Cyrus Olson's dad is a hero—Northfield's former football star and now one of their finest firefighters. Everyone expects Cyrus to follow in his dad's record-breaking footsteps, and he wishes they were right—except he's never been brave like that. But this year, with the help of a stray dog, a few new friends, a little bit of rhythm, and a lot of nerve, he may just discover that actually…he is.
Verdict: Haven't we all wished we were something "more" than what we are?  Cyrus wishes he could be more brave, like his dad.  But, it turns out, we are exactly what we need to be when the time requires it.
Find it: J FIC STO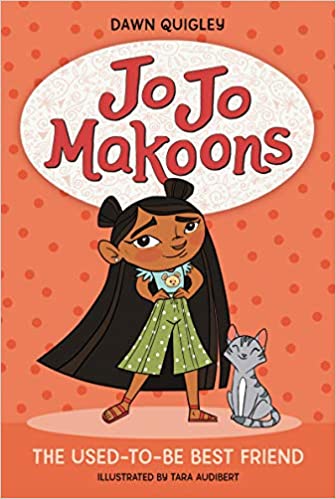 The Used-to-Be Best Friend
(Jo Jo Makoons #1)
by Dawn Quigley
Jo Jo Makoons Azure is a spirited seven-year-old who moves through the world a little differently than anyone else on her Ojibwe reservation. It always seems like her mom, her kokum (grandma), and her teacher have a lot to learn—about how good Jo Jo is at cleaning up, what makes a good rhyme, and what it means to be friendly.  Even though Jo Jo loves her #1 best friend Mimi (who is a cat), she's worried that she needs to figure out how to make more friends. Because Fern, her best friend at school, may not want to be friends anymore…
Verdict:  This new series is great for beginning readers or as a family read-aloud.  The book is comical but also educational, as you learn a little about Ojibwe culture and language as you read.  If your reader likes real-life-reads like Junie B. Jones and Heidi Heckelbeck, they'll probably like this as well!
Find it: NEW J FIC QUI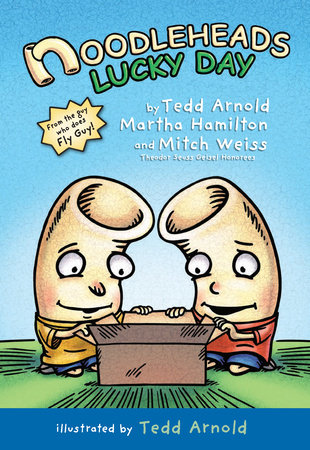 Lucky Day
(Noodleheads #5)
By Tedd Arnold
Twin brothers Mac and Mac are soooo lucky. How lucky are they?
• When they get hit on the head with an acorn, they're lucky that little acorns and not big watermelons grow on trees.
• When their frenemy Meatball gives them a bag full of bees, they're lucky that Mom has just built a beehive to put them in.
• And when their watermelon DOESN'T hatch a kitten, they're lucky that there's another way to get a pet.
Verdict: From the creator of Fly Guy comes Noodleheads! These graphic novels contain several chapters all revolving around a central theme – this one is Lucky Day! The content is very silly and definitely reflects the stories that kids tell in elementary school. Every one is sure to have a laugh (or an eye roll!) with the Noodleheads.
Find it: NEW JGR ARN
Raise Your Voice
By Jeffrey Kluger
From the Boston Tea Party to the suffragists, from the Montgomery Bus Boycott to Stonewall, peaceful (and not-so-peaceful) protest has been a means of speaking up and enacting change from the very founding of America. This new collection recounts twelve of the major protests throughout the country's history, detailing the people behind them, the causes they marched for, and the impact they had.
Verdict:  A concise, non-partisan recount of 12 major protests, including the Boston Tea Party (1773), Seneca Falls Convention (1848), Triangle Shirtwaist Factory (1911), Montgomery Bus Boycott (1955-1956), March on Washington (1963), Democratic Convention (1968), Stonewall Uprising (1969), Earth Day (1970), March Against Nuclear Weapons (1982), ACT UP (1987), Women's March (2017), and the Dakota Access Uprising (2016-2017).  It will help children begin to understand the history of protests, how they are used, and what effects they can have.  Of course, it will also likely raise more questions about why things happen – so be prepared to check out more nonfiction to find those answers
Find it: NEW J 303.48 KLU
Read-A-Likes
Book recommendations based on what book you already love!
Click on the book title to find your next favorite read-a-like.