Learn about some of our new books from our Youth Services Librarian.
Keep checking back for NEW books!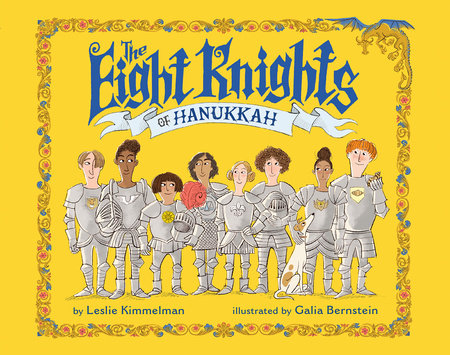 The Eight Knights of Hanukkah
by Leslie Kimmelman
On the last night of Hanukkah, Lady Sadie summons her children, the Eight Knights of Hanukkah, to stop the dastardly dragon that is interrupting party preparations, using kindness and bravery. Includes notes on the traditions of Hanukkah and directions for playing the dreidel game.
Verdict:  A fun spin on the eight nights of Hanukkah that introduces readers to some Jewish traditions while really exemplifying the themes of kindness and community.  Full of humor and, of course, a dragon, there is something in the book for everyone!
Find it: NEW PIC KIM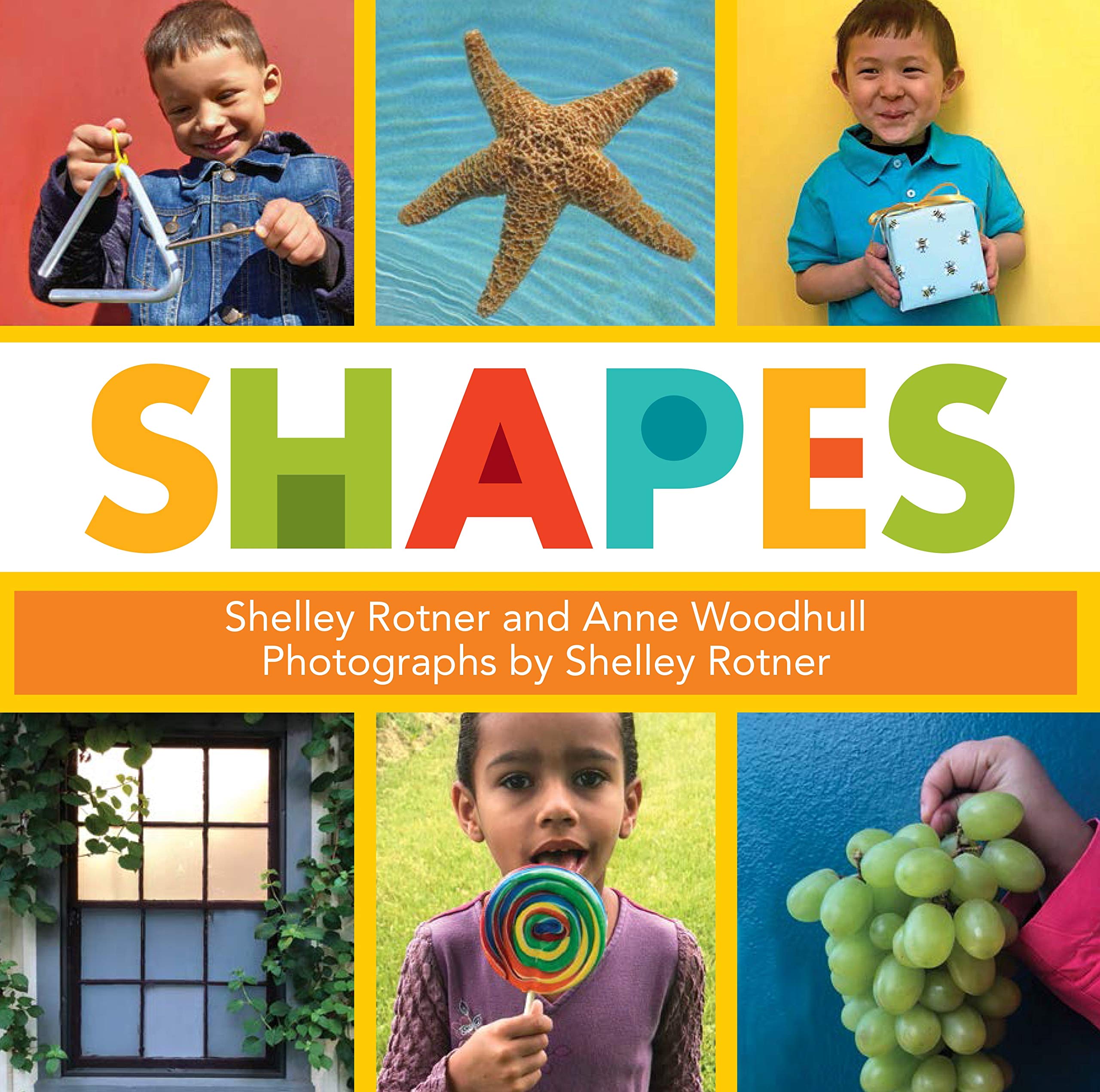 Shapes
By Shelley Rotner
Shapes are everywhere, from a small marble to the moon and stars. Each page discusses one shape and the many places it can be found. The large, vivid photographs will encourage preschool readers to point out their favorite shapes on each page.
Verdict:  A great book for helping children to identify the shapes all around them. They can find circles in the sky (sun, moon), squares at the playground (hopscotch), and ovals in the kitchen (eggs).  Don't be surprised if they start pointing out ALL the shapes around you after reading this book!
Find it: NEW J 516 ROT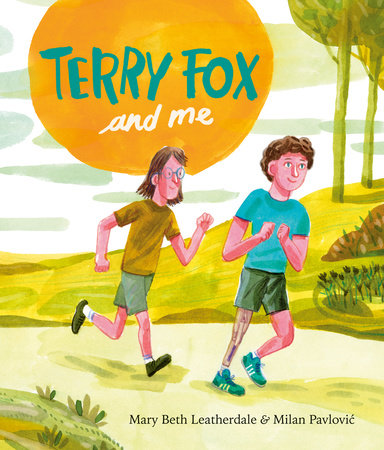 Terry Fox and Me
By Mary Beth Leatherdale
Before Terry Fox become a national hero and icon, he was just a regular kid, with a friend named Doug.  Doug was by Terry's side every step of the way: when Terry received a diagnosis of cancer in his leg, when he was learning to walk – then run – with a prosthetic leg and while he was training for the race of his life, his Marathon of Hope.
Verdict:  A beautiful story about friendship and resilience, told from the perspective of Terry's best friend, Doug.  Even if you haven't heard of Terry Fox and the Marathon of Hope, this book and it's gorgeous illustrations will not disappoint.  A story worth knowing.
Find it: NEW J B FOX
Mad Mad Mad
by Leslie Patricelli
Sometimes Baby is sad. And sometimes mad, mad, MAD! Baby screams and falls to the floor, and a spectacular tantrum follows, from furious crying to the final flop. What happens when Baby wants to stop, but even hugging a beloved blankie doesn't dissolve the cranky? Maybe a walkabout is in order, with some mindful breathing to boot?
Verdict: This is a great book for helping toddlers discover their emotions and start to understand how to work through those.  Every child will develop their own way to cope with their feelings, whether it's by finding their beloved toy or spending some time alone, and Baby has to try a few different things in the book to find his own way to overcome the anger.
Find it: BOARD PIC PAT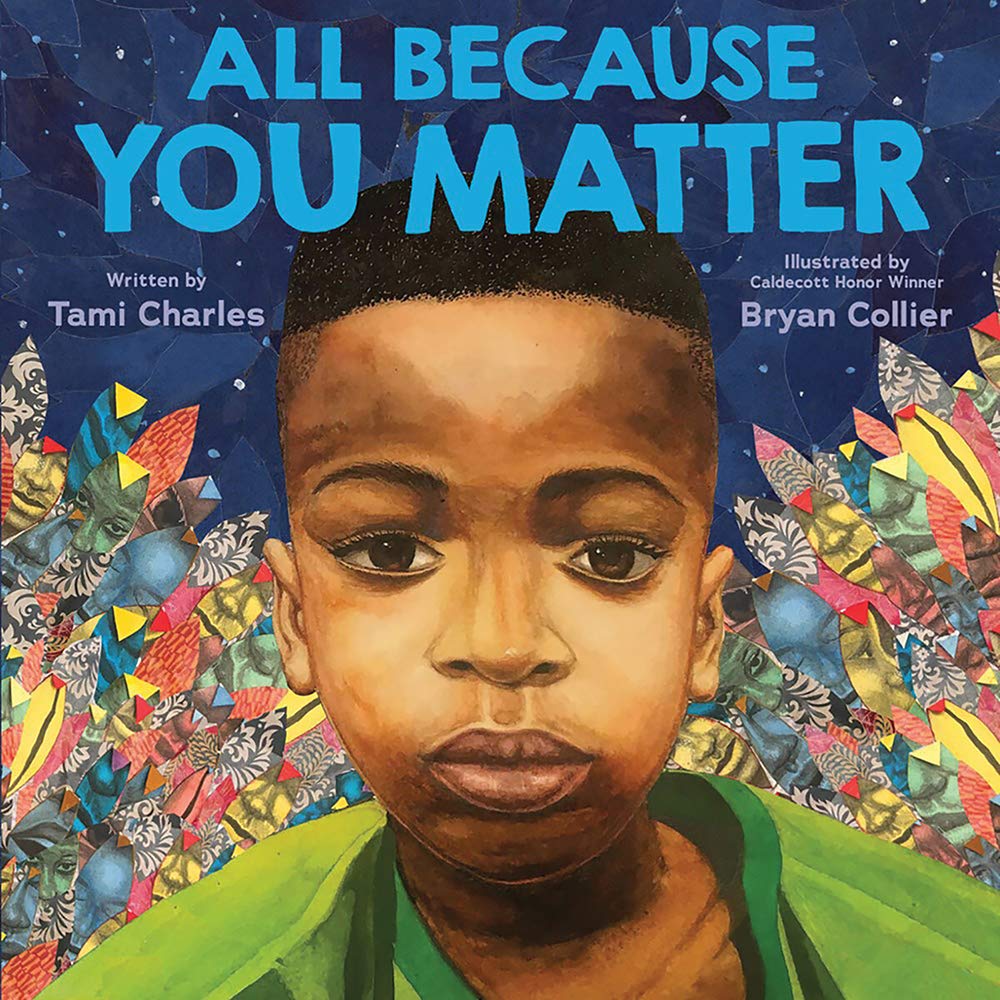 All Because You Matter
by Tami Charles
A Black couple who are expecting a child begin to speak to the baby while still in the womb about how his life matters.  As he grows, he sees in the pages of the story characters and images of children like him. Beautiful collages carry the messages of "you matter," not to give up despite adversity, and that "beauty and strength is within you."
Verdict: Although clearly written as affirmation for black children that they matter, this can certainly be an important read for all families.  At some point, almost every child asks themselves if they "matter," and of course, the answer is always "yes!"  This is a truly powerful picture book that should be revisited by every family again and again.
Find it: NEW PIC CHA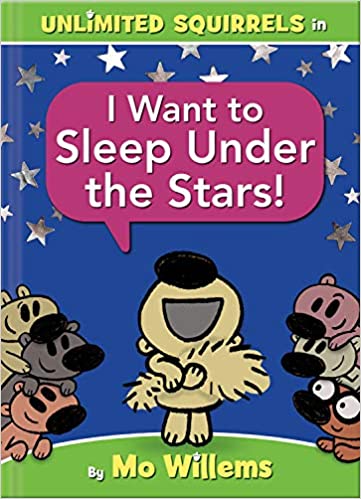 I Want to Sleep Under the Stars
by Mo Willems
Zoom Squirrel dreams of sleeping under the night stars. The Squirrel pals are excited to help! But will their encouragement be enough-or too much? Do you know more about sleeping under the stars than the Squirrels do? You will by the end of this book!
Verdict: If you like the Pigeon or Elephant & Piggie books by Mo Willems, Unlimited Squirrels will keep you laughing.  The series bridges the transition between easy reader and early chapter book and includes the story, jokes, and facts, as well as (my favorite part!) Emote-Acorns [acorn emoticons] that pop up when the squirrels have BIG feelings.
Find it: NEW E WIL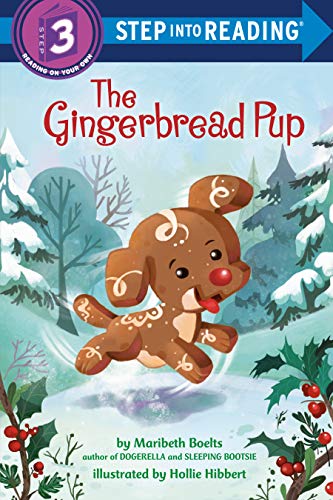 The Gingerbread Pup
by Maribeth Boelts
Evalina desperately wants a dog, so she bakes one out of gingerbread and he springs to life! But the gingerbread pup gets into mischief all over town and Evalina must find a way to catch him if she can.
Verdict: This fractured fairy tale features an adorable pup that gets into all kinds of trouble.  A few twists in the story keep readers engaged and guessing what might happen next.  Pair it with a classic "Gingerbread Man" book for some fun seasonal reading!

Find it: NEW E BOE
My Family is Special
by Maggie Testa
Daniel and his friends spend a fun day at the library learning about what makes their families unique and grr-ific! All families are different. Find out what makes yours special!
Verdict: Based on the TV show Daniel Tiger's Neighborhood, the song from the show is echoed throughout the book: "Families are different, and that's okay!"? The book is a great introduction to why everyone's family is special, even though we may all have families that look or act a little different.  Whether you live with your parents or your uncle, have orange fur or blue feathers, your whole family (and you!) is special.
Find it: NEW E TES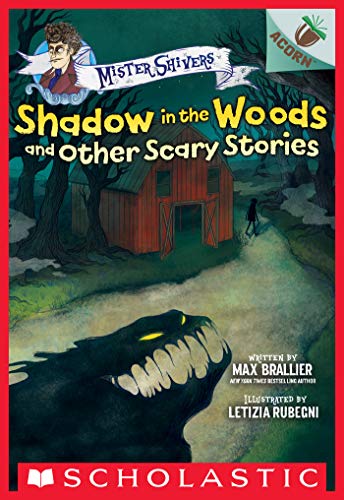 Shadow in the Woods
and Other Scary Stories
by Max Brallier
What is making that strange sound in the woods? Who wrote that dark message on the wall? These five spine-chilling stories will have beginning readers everywhere begging to stay up late to read (with the light on!). With authentically scary, easy-to-read text and creepy, full-color artwork throughout, this book is perfect for young children who crave lite scares. This scary story collection from New York Times bestselling author Max Brallier is THE book to share at sleepovers or around a campfire. It will send SHIVERS down your spine!
Verdict: For children just learning to read that like scary stories, this is the series!  This book is the second Mister Shivers book and is a perfect transition between traditional easy readers and chapter books. At the end of the book, you even get a drawing lesson and a writing/talking prompt!

Find it: NEW E BRA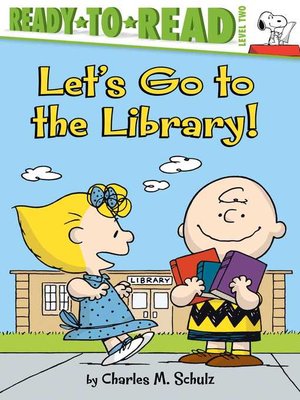 Let's Go to the Library!
by Charles M. Schultz
Sally is so excited; she is going to the library to get her very first library card. And of course her brother Charlie Brown and Sweet Babboo Linus are there with her to celebrate this big day!
Verdict: What librarian wouldn't love a book about getting your first library card?  Peanuts fans are sure to enjoy following Sally on her trip and any reader will probably agree that "Happiness is having your own library card."
Find it: NEW E SCH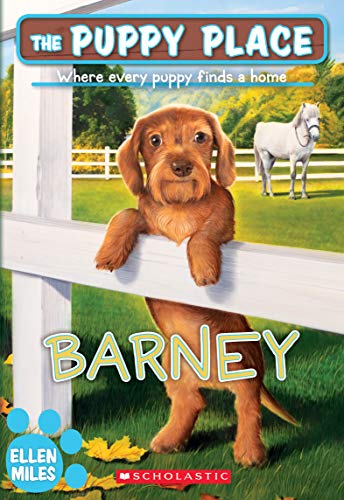 Barney
By Ellen Miles
Lizzie Peterson is excited to watch her best friend Maria in an equestrian competition. As the horses get ready to compete, a curious dachshund races straight into the ring! When Lizzie finds that the puppy belongs to a family who is a bit overwhelmed, she decides to help them re-home Barney. But finding the perfect owners for this loud and peppy dog might not be so easy.
Verdict: This is the 57th book in the Puppy Place series, and is perfect for horse and puppy lovers alike!  A short, cute story that is hard to put down.  Lizzie's family fosters puppies and has lots of adventures, so if you like this book, certainly check out the other books in the series!
Find it: NEW J FIC MIL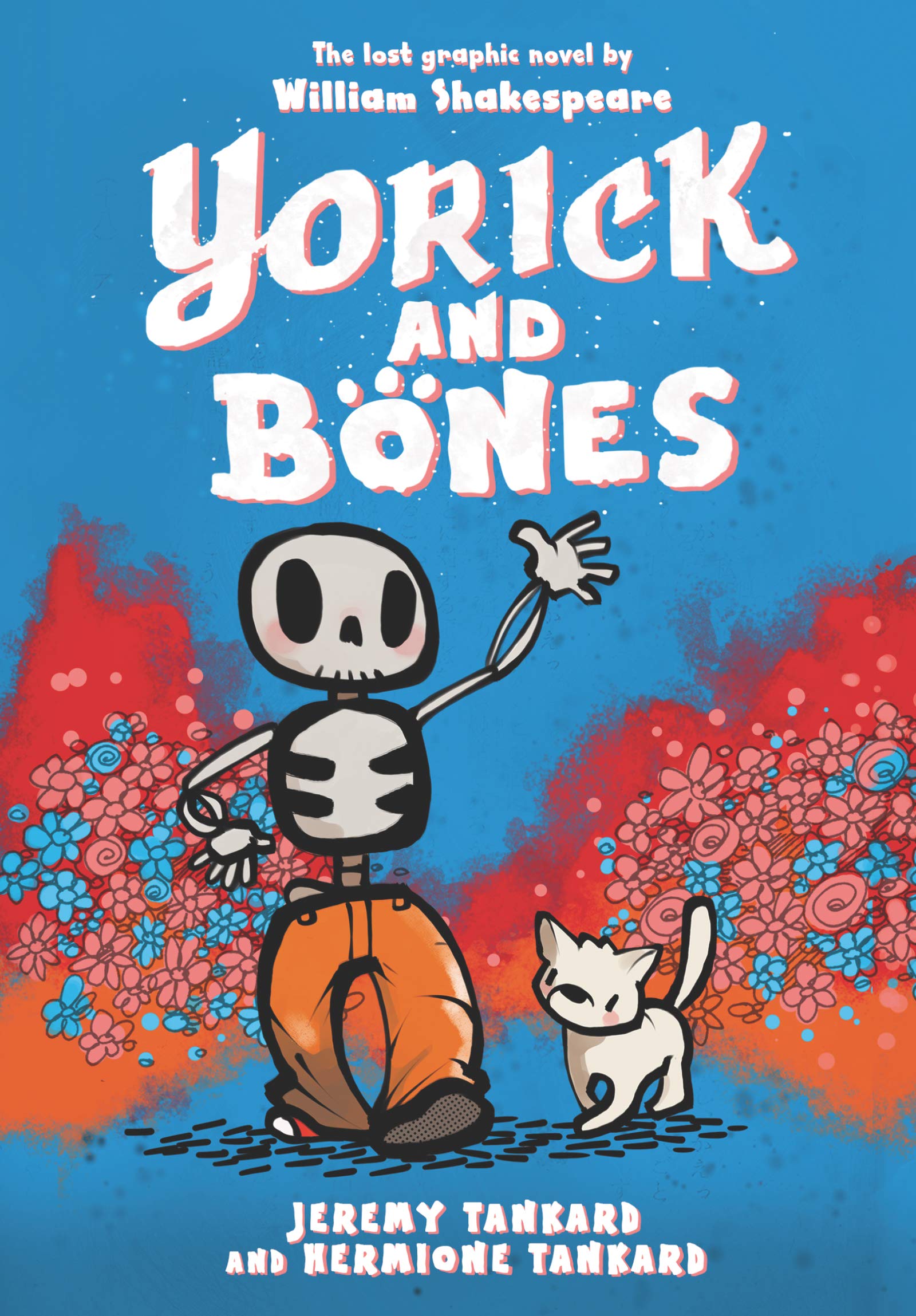 Yorick and Bones
By Jeremy Tankard & Hermoine Tankard
Yorick is a skeleton who was just dug up after a few hundred years of sleep. He speaks like it too. "Forsooth, my joy, I barely can contain!" Bones is the hungry dog who did the digging. Though he cannot speak, he can chomp.  What will become of these two unlikely companions? Will Yorick ever find the friend he seeks? Will Bones ever find a tasty treat that does not talk back?
Verdict: Written in Shakespearean text, the graphic novel is a fun read.  Young readers will likely learn new vocabulary, like "cacophony" and "pram" as they read, and may be interested to delve into more Shakespearean works as a few other characters (Puck, Calaban, Rosencratz, Romeo) are named in the book.  Obviously, Yorick comes from the famous work, Hamlet, but this is a fun play on what his life might be like if he were to suddenly arise today.
Find it: NEW JGR TAN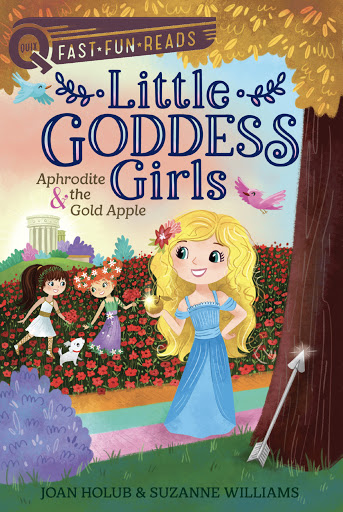 Aphrodite & the Gold Apple
(Little Goddess Girls #3)
by Joan Holub & Suzanne Williams
The Little Goddess Girls series features Athena, Persephone, Aphrodite, and Artemis as they adventure on the magical Mount Olympus.  In the third book, Aphrodite is hoping to have friends, but she tends to speak before she really thinks about the words coming out of her mouth and upsets a lot of people!  On this adventure, she hopes that Zeus will grant her the gift of likability.
Verdict:  This series is great for those readers transitioning to chapter books.  It features only a few pictures, but the text is large and spaced so that beginning readers can easily follow the story along the page.  As hinted at by the titles, this series pulls ideas from Greek mythology, but it also borrowed ideas from The Wonderful Wizard of Oz by L. Frank Baum.  It's a fun literary combination and will be sure to keep readers entertained.  The Goddess Girls are 8 years old in this book and seem to pretty accurately portray how children that age would interact.
Find it: NEW J FIC HOL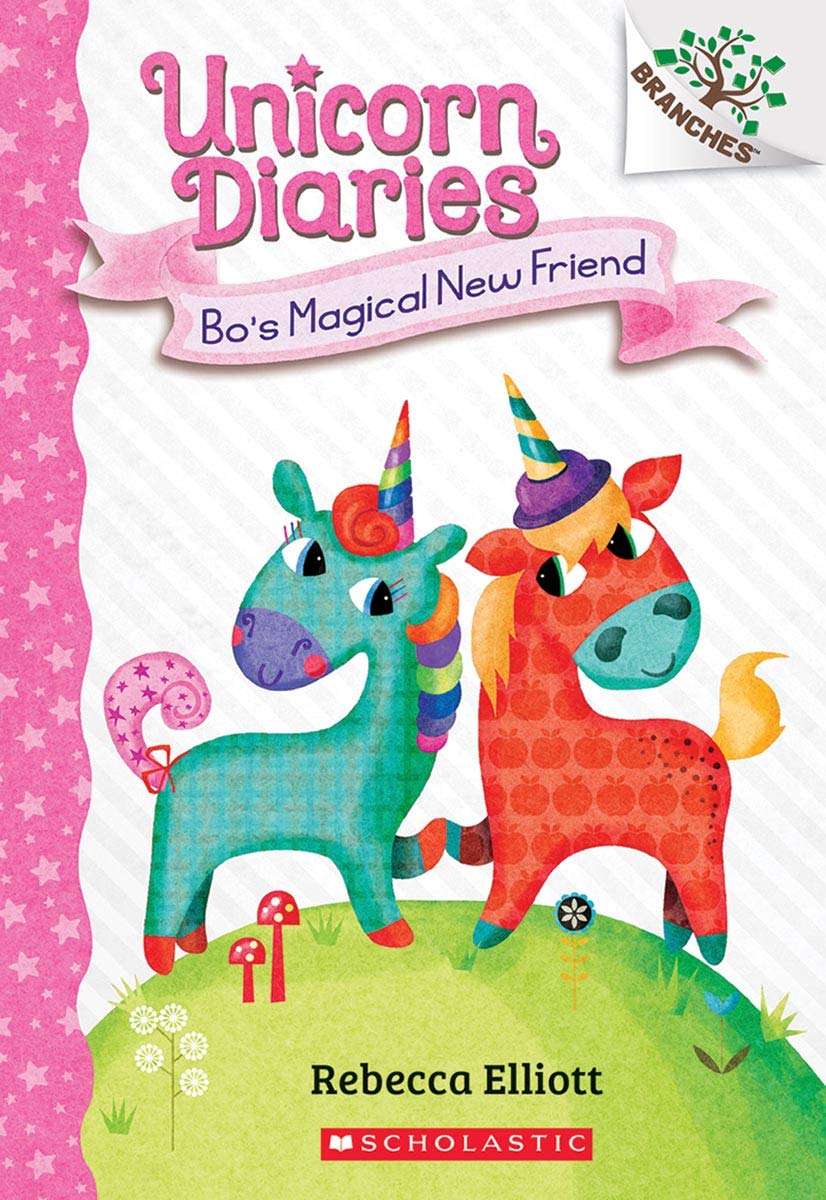 Bo's Magical New Friend
(Unicorn Diaries #1)
By Rebecca Elliott
Rainbow (Bo) Tinseltail live in Sparklegrove Forest and loves attending Sparklegrove School for Unicorns.  But, what Bo really wants is a best friend.  Then, a new magical unicorn, Sunny, arrives in the forest.  Will Bo be able to fulfill the wish of finding a new best friend?
Verdict:  Written like a diary (as the series name suggests), this book is filled with illustrations and is perfect for readers transitioning into longer, chapter books.  The story is cute and will keep readers entertained, but my favorite part is the comprehension questions at the back of the book!  If your young reader is having issues with comprehension (and likes unicorns!), this book may be a good tool to help bridge the divide.  Of course, any lover of unicorns will enjoy the book as well!
Find it: NEW J FIC ELL
Raise Your Voice
By Jeffrey Kluger
From the Boston Tea Party to the suffragists, from the Montgomery Bus Boycott to Stonewall, peaceful (and not-so-peaceful) protest has been a means of speaking up and enacting change from the very founding of America. This new collection recounts twelve of the major protests throughout the country's history, detailing the people behind them, the causes they marched for, and the impact they had.
Verdict:  A concise, non-partisan recount of 12 major protests, including the Boston Tea Party (1773), Seneca Falls Convention (1848), Triangle Shirtwaist Factory (1911), Montgomery Bus Boycott (1955-1956), March on Washington (1963), Democratic Convention (1968), Stonewall Uprising (1969), Earth Day (1970), March Against Nuclear Weapons (1982), ACT UP (1987), Women's March (2017), and the Dakota Access Uprising (2016-2017).  It will help children begin to understand the history of protests, how they are used, and what effects they can have.  Of course, it will also likely raise more questions about why things happen – so be prepared to check out more nonfiction to find those answers
Find it: NEW J 303.48 KLU
Read-A-Likes
Book recommendations based on what book you already love!
Click on the book title to find your next favorite read-a-like.