Learn about some of our new books from our Youth Services Librarian.
Keep checking back for NEW books!
Hello, New Friend!
by Patty Michaels
With text adapted from the hit "Hello Song," young readers will love meeting their favorite characters from their favorite show: CoComelon! There's JJ; his brother, TomTom; his sister, YoYo; his friends Cody, Nina, and CeCe; his mom and dad; and Ms. Appleberry, his preschool teacher!
Verdict:  If your toddlers are obsessed with Cocomelon, this book won't disappoint them!  It's also perfect for the first weeks of school when you are meeting and learning about a whole new group of friends.
Find it: BOARD PIC COC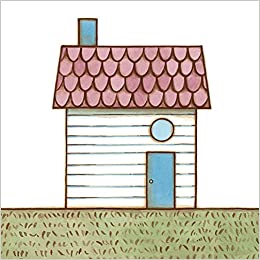 A House
By Kevin Henkes
A House introduces young readers to shapes, numbers, the weather, and the parts of a house, with a rhythmic, repetitive text and remarkable illustrations. A story about home, family, community, and belonging, A House is an excellent choice for emergent readers, for social and emotional development, and for storytime sharing.
Verdict:  This was a fun book to read! It will be a perfect addition to our preschool story time, when we often ask questions as we read the books, because the questions are built in!  It'll also be great for sharing one-on-one as you can start conversations with your littles based solely on the text.
Find it: NEW PIC HEN
ABC of Feelings
By Bonnie Lui
From anxious to zany, kids experience a wide range of emotions, but they don't often have the language to explain how they're feeling. ABC of Feelings explains that it's perfectly okay–and normal!–to feel many different things, and gives both kids and parents the tools they need to make the abstract nature of feelings and emotions easier to discuss and understand.
Verdict:  Even as an adult, it can be hard to name and process feelings – we have so many!  This title is great for giving a name to the many feelings we have throughout the day and would make a great addition to any families/classrooms working on socio-emotional development.
Find it: NEW PIC LUI
How Do Dinosaurs Say Goodbye?
by Jane Yolen
Saying goodbye is hard, even for dinosaurs. When they have to part from a loved one, they might cry, or hide in their bedrooms, or even write "DON'T GO!" on the wall. But with a little courage, they can face their fears. They can tell grown-ups how they're feeling and know that time apart can still be filled with love.
Verdict: The newest addition to the "How Do Dinosaurs…" series, it'll surely be a favorite for any dinosaur lover.  Use it to prepare children for their first day of school, a babysitter coming over, or an upcoming move.  It's a bit tougher of a topic than the other dinosaur books, but a good read in the right situation.
Find it: NEW PIC YOL
How to Find a Fox
by Kate Gardner
​Taking kids on an imaginary trek through different landscapes and seasons, How to Find a Fox celebrates one of our planet's most graceful and enchanting creatures: the red fox. Ossi Saarinen's stunning wildlife photos and Kate Gardner's lively and informative words capture the magical and profound connection between animals and humans. Readers will be inspired to get outside and make their own discoveries–maybe with a camera in-hand, just like Ossi
Verdict: With all the commotion about fox in Clear Lake lately, this almost seems like a must-read for the whole community!  The pictures are stunning and capture fox doing what they do throughout the day and where you should (and shouldn't) try to find them.
Find it: NEW J 599.775 GAR
Hello Ninja: Goodbye Tooth
by N. D. Wilson
Wes's first tooth just came out—and now he's lost it outside! The only way he and his best friend Georgie can find the tooth is if they imagine they're both ninjas. But a sneaky bird stands in their way!
Verdict: If you aren't familiar with the show, the transition from regular kid to ninja is a bit abrupt, but the book will likely appeal to any families that watch the Netflix series or love books about ninjas. This Level 1 book is great for kids learning to read on their own.
Find it: NEW E WIL
Hello Ninja: Hello Stage Fright
by N. D. Wilson
Wes promised Georgie he'd play the drums at her dance recital, but now he's too nervous. They pretend to be ninjas to help Wes find his courage, but when the audience is suddenly in danger, will they be able to save the day?
Verdict: Those not familiar with the show might struggle with the transition from regular kid to ninja, but the following story line will likely grab their attention again quickly.  While not very useful for helping children who are experiencing stage fright, it's a fun story that fans of the show and ninja lovers will likely enjoy.

Find it: NEW E WIL
Pinkalicious: Treasuretastic!
by Victoria Kann
When Pinkalicious and Peter play treasure hunters on the family hike, what they find is even better than what they expected—it's treasuretastic!
Verdict: Pinkalicious fans are sure to love this newest installment.  However, as an outdoor enthusiast I found the ending lacking. It's an exciting 'treasure' find, but might have been improved if the book had hit on "Leave No Trace" or "Appreciate the Moment" sentiments common in hiking communities.  Of course, you can always pair this title with other books to help solidify those points.
Find it: NEW E KAN
Biscuit and the Little Llamas
by Alyssa Satin Capucilli
It's spring on the farm. Join the beloved and bestselling little yellow puppy, Biscuit, as he makes friends with the piglets, the lambs, the chicks, and even the little llamas!
Verdict: A nice spring-time book featuring the beloved puppy, Biscuit, and all the farm animals. Young children will love imitating Biscuit as he "woofs" his way through the farmyard.

Find it: NEW E CAP
I Wish I Was a Flamingo
by Jennifer Bove
What if you wished you were a flamingo and then you became one? Could you eat like a flamingo? Talk like a flamingo? Grow up in a flamingo family? And would you want to? Find out!
Verdict: Learn all about flamingos in this new Ranger Rick book.  Amazing photographs span every page and bring the book to life. The end contains even more facts and a fun activity to do together.
Find it: NEW E 598.3 BOV
Linked
By Gordon Korman
Link, Michael, and Dana live in a quiet town. But it's woken up very quickly when someone sneaks into school and vandalizes it with a swastika. Nobody can believe it. How could such a symbol of hate end up in the middle of their school? Who would do such a thing?
Verdict: This book introduces the Holocaust in a very kid-friendly way, as it's set in a middle school and narrated by the three main characters.   Some readers have a tough time following a book written from multiple perspectives, so be sure to weigh that in the decision to check this title out.  Otherwise, it's a good read for middle grade readers focusing on tolerance and acceptance.
Find it: NEW J FIC KOR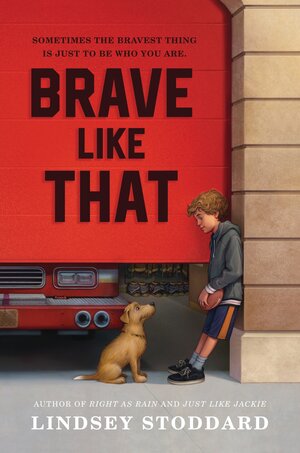 Brave Like That
By Lindsey Stoddard
Cyrus Olson's dad is a hero—Northfield's former football star and now one of their finest firefighters. Everyone expects Cyrus to follow in his dad's record-breaking footsteps, and he wishes they were right—except he's never been brave like that. But this year, with the help of a stray dog, a few new friends, a little bit of rhythm, and a lot of nerve, he may just discover that actually…he is.
Verdict: Haven't we all wished we were something "more" than what we are?  Cyrus wishes he could be more brave, like his dad.  But, it turns out, we are exactly what we need to be when the time requires it.
Find it: J FIC STO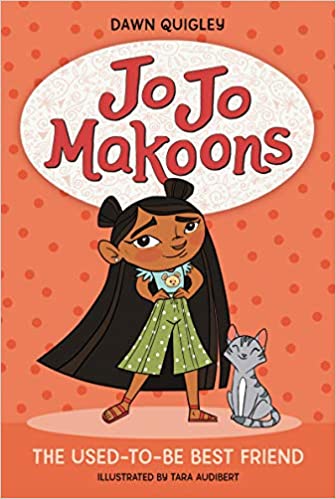 The Used-to-Be Best Friend
(Jo Jo Makoons #1)
by Dawn Quigley
Jo Jo Makoons Azure is a spirited seven-year-old who moves through the world a little differently than anyone else on her Ojibwe reservation. It always seems like her mom, her kokum (grandma), and her teacher have a lot to learn—about how good Jo Jo is at cleaning up, what makes a good rhyme, and what it means to be friendly.  Even though Jo Jo loves her #1 best friend Mimi (who is a cat), she's worried that she needs to figure out how to make more friends. Because Fern, her best friend at school, may not want to be friends anymore…
Verdict:  This new series is great for beginning readers or as a family read-aloud.  The book is comical but also educational, as you learn a little about Ojibwe culture and language as you read.  If your reader likes real-life-reads like Junie B. Jones and Heidi Heckelbeck, they'll probably like this as well!
Find it: NEW J FIC QUI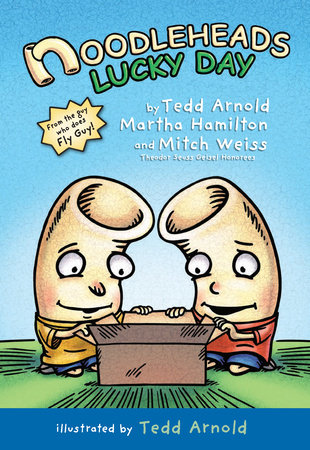 Lucky Day
(Noodleheads #5)
By Tedd Arnold
Twin brothers Mac and Mac are soooo lucky. How lucky are they?
• When they get hit on the head with an acorn, they're lucky that little acorns and not big watermelons grow on trees.
• When their frenemy Meatball gives them a bag full of bees, they're lucky that Mom has just built a beehive to put them in.
• And when their watermelon DOESN'T hatch a kitten, they're lucky that there's another way to get a pet.
Verdict: From the creator of Fly Guy comes Noodleheads! These graphic novels contain several chapters all revolving around a central theme – this one is Lucky Day! The content is very silly and definitely reflects the stories that kids tell in elementary school. Every one is sure to have a laugh (or an eye roll!) with the Noodleheads.
Find it: NEW JGR ARN
Raise Your Voice
By Jeffrey Kluger
From the Boston Tea Party to the suffragists, from the Montgomery Bus Boycott to Stonewall, peaceful (and not-so-peaceful) protest has been a means of speaking up and enacting change from the very founding of America. This new collection recounts twelve of the major protests throughout the country's history, detailing the people behind them, the causes they marched for, and the impact they had.
Verdict:  A concise, non-partisan recount of 12 major protests, including the Boston Tea Party (1773), Seneca Falls Convention (1848), Triangle Shirtwaist Factory (1911), Montgomery Bus Boycott (1955-1956), March on Washington (1963), Democratic Convention (1968), Stonewall Uprising (1969), Earth Day (1970), March Against Nuclear Weapons (1982), ACT UP (1987), Women's March (2017), and the Dakota Access Uprising (2016-2017).  It will help children begin to understand the history of protests, how they are used, and what effects they can have.  Of course, it will also likely raise more questions about why things happen – so be prepared to check out more nonfiction to find those answers
Find it: NEW J 303.48 KLU
Read-A-Likes
Book recommendations based on what book you already love!
Click on the book title to find your next favorite read-a-like.