Learn about some of our new books from our Youth Services Librarian.
Keep checking back for NEW books!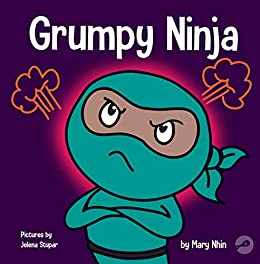 Grumpy Ninja
by Mary Nhin
Life is hard! And it's even harder for children who are just trying to figure things out.
The new children's book series, Ninja Life Hacks, was developed to help children learn valuable life skills. Fun, pint-size characters in comedic books easy enough for young readers, yet witty enough for adults.
Verdict:  We just added 17 new Ninja Life Hack books to the collection and they are all great!  Perfect for ninja lovers or families that are working on social-emotional learning, each book gives advice on how to handle different emotions and situations.
Find it: NEW PIC NHI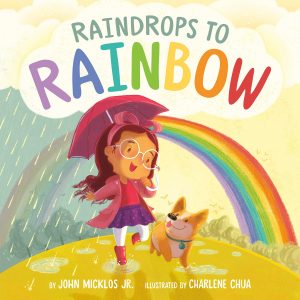 Raindrops to Rainbow
By John Micklos Jr.
Raindrops are falling outside, but there's still a world of color to experience! Delightful rhymes and brilliant illustrations detail how a gloomy, rainy day might not actually be so gloomy after all when you get to spend time with Mom, Brown Bear, and the colors around you. And when a "beaming rainbow, bold and bright" cuts through the sky, everyone gets to experience the joy of all the colors that can only come after the rain.
Verdict:  A fun, rhyming picture book that focuses on colors and feelings throughout.  A great message of "this too shall pass" when the storm finally ends and a rainbow shines bright.
Find it: NEW PIC MIC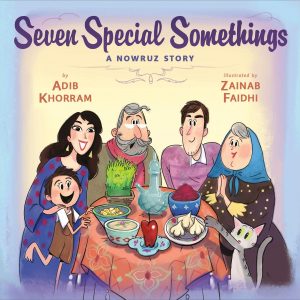 Seven Special Somethings
By Adib Khorram
Kian can't wait for Persian New Year! His family has already made a haft-seen, and Kian's baba and maman told him that all the things on it start with S and will bring them joy in the new year. Kian wonders if he could add just one more S, to make his family even happier. Hmm . . . Sonny the cat's name starts with S–but Sonny knocks the whole table over! Can Kian find seven special somethings to make a new haft seen before his family arrives for their Nowruz celebration?
Verdict:  I had never heard of Nowruz before this book and am so glad I read it!  The Persian/Iranian New Year tradition was fun to learn about and the book puts a great story in action as the child tries to 'fix' what the cat has ruined.  Of course, he doesn't necessarily do it in a traditional way.  A fun read!
Find it: NEW PIC KHO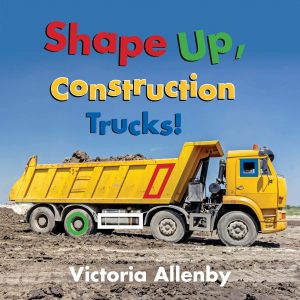 Shape Up, Construction Trucks!
by Victoria Allenby
It's no secret that toddlers love big vehicles.  Each spread highlights geometric shapes hiding in plain sight on excavators, bulldozers, cranes, and more. And after the toddlers have browsed the pages to their heart's content, a final note to parents offers enriching, age-appropriate activities to keep building their child's foundational skills.
Verdict: The book is padded with heavy duty pages, great for little hands.  Combining the concepts of vehicles and shapes is brilliant and sure to engage a child that likes to focus on either of those concepts!
Find it: NEW PIC ALL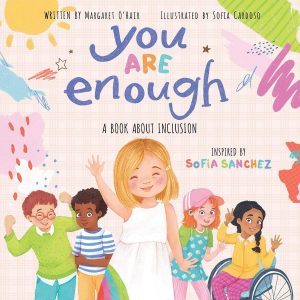 You Are Enough
by Margaret O'Hair
It can be hard to be different – whether because of how you look, where you live, or what you can or can't do. But wouldn't it be boring if we were all the same? Being different is great! Being different is what makes you YOU.
Verdict: A beautiful picture book for every child.  The book features diverse children of all abilities and skill sets, and discusses the importance of being different and loving yourself.  Everyone should read this!
Find it: NEW PIC OHA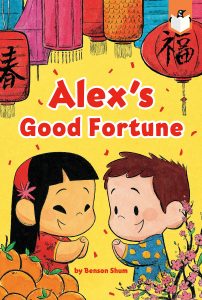 Alex's Good Fortune
by Benson Shum
Chinese New Year is the most important holiday for Alex and her family, so it's even more special when she gets to share her favorite traditions with her best friend, Ethan. Together, they join the Chinese New Year parade, prepare for the festivities, open the red envelopes, eat a great big feast, and enjoy the lantern festival!
Verdict: A great introduction to Chinese New Year and the weeks-long celebration that occurs.  At the end there is some information about the Chinese zodiac, which each animal represents, and also some bilingual Chinese New Year wishes!
Find it: NEW E SHU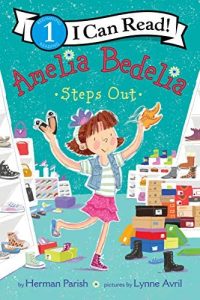 Amelia Bedelia Steps Out
by Herman Parish
Amelia Bedelia and her mother need new shoes, but Amelia Bedelia adores her comfy, broken-in sneakers. But the shoe is on the other foot when Amelia Bedelia spots the perfect pair—only to find out that they belong to Mary Jane!
Verdict: Every child has to go shoe shopping at some point, and Amelia Bedelia certainly makes it comical.  Good luck getting through the book without chuckling at least once!

Find it: NEW E PAR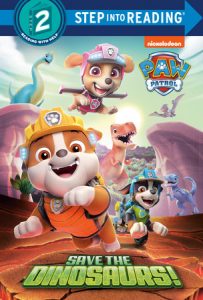 Save the Dinosaurs!
PAW Patrol
PAW Patrol is on a roll! The dinosaur eggs are missing. It is up to the pups to save them.
Verdict: Nickelodeon's favorite pups are back with a BIG mission.  Meet the new team member, Rex, and travel through the waterfall to the land of the dinosaurs in this fun new PAW Patrol adventure.  Every dog and dinosaur lover will enjoy this easy reader.
Find it: NEW E PAW
Biscuit and the Little Llamas
by Alyssa Satin Capucilli
It's spring on the farm. Join the beloved and bestselling little yellow puppy, Biscuit, as he makes friends with the piglets, the lambs, the chicks, and even the little llamas!
Verdict: A nice spring-time book featuring the beloved puppy, Biscuit, and all the farm animals. Young children will love imitating Biscuit as he "woofs" his way through the farmyard.

Find it: NEW E CAP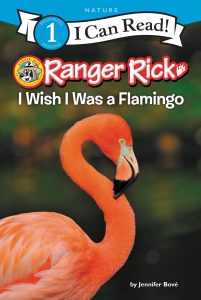 I Wish I Was a Flamingo
by Jennifer Bove
What if you wished you were a flamingo and then you became one? Could you eat like a flamingo? Talk like a flamingo? Grow up in a flamingo family? And would you want to? Find out!
Verdict: Learn all about flamingos in this new Ranger Rick book.  Amazing photographs span every page and bring the book to life. The end contains even more facts and a fun activity to do together.
Find it: NEW E 598.3 BOV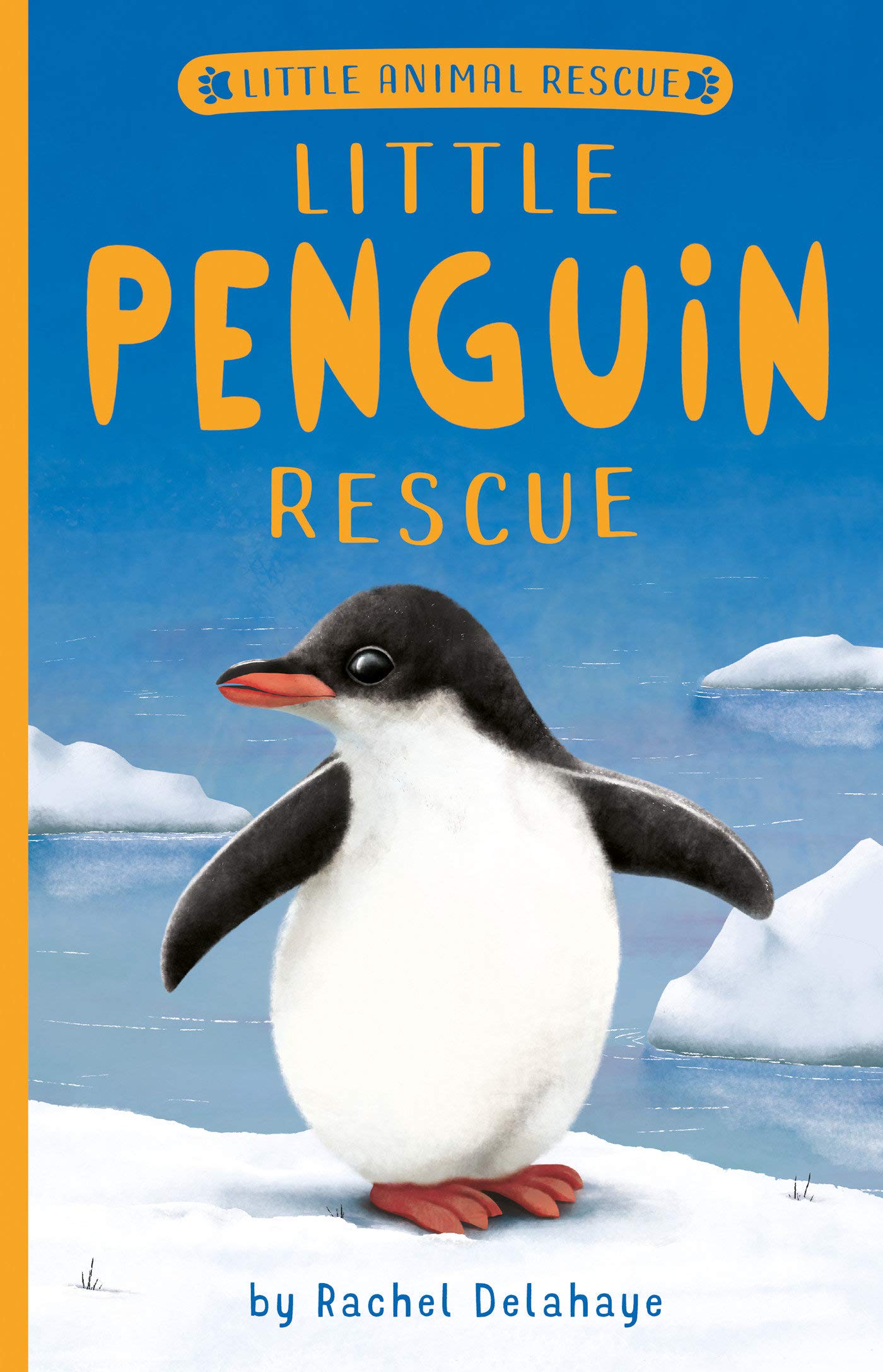 Little Penguin Rescue
(Little Animal Rescue series)
By Rachel Delahaye
While in the middle of a snowball fight, Callie is magically whisked away to the Antarctic where she is thrilled to meet a colony of penguins, ready to march north for the winter! But then a blizzard blows in, separating a baby penguin and its injured mother from the group. Can Callie battle the icy cold and a sea full of predators to save her feathery friends?
Verdict: It's not clear why Callie has been chosen to go on these animal adventures and save wildlife, but readers will enjoy traveling with her.  Perfect for early elementary readers that are looking for a story with illustrations scattered throughout, the reader will also learn a few things about the animal featured in the book – in this case, the Adelie penguin.  This series would also make a great family read-aloud!
Find it: NEW J FIC DEL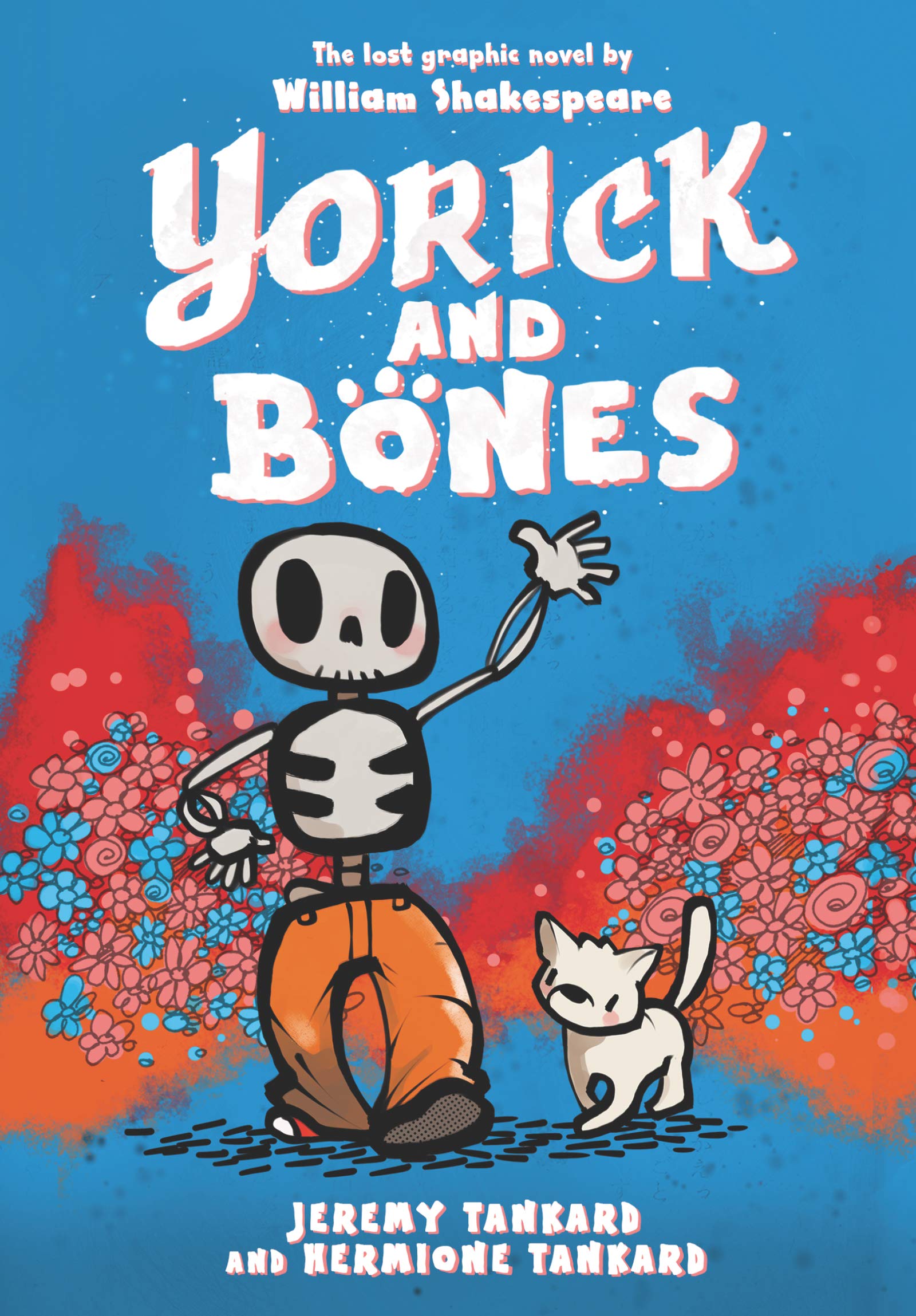 Yorick and Bones
By Jeremy Tankard & Hermoine Tankard
Yorick is a skeleton who was just dug up after a few hundred years of sleep. He speaks like it too. "Forsooth, my joy, I barely can contain!" Bones is the hungry dog who did the digging. Though he cannot speak, he can chomp.  What will become of these two unlikely companions? Will Yorick ever find the friend he seeks? Will Bones ever find a tasty treat that does not talk back?
Verdict: Written in Shakespearean text, the graphic novel is a fun read.  Young readers will likely learn new vocabulary, like "cacophony" and "pram" as they read, and may be interested to delve into more Shakespearean works as a few other characters (Puck, Calaban, Rosencratz, Romeo) are named in the book.  Obviously, Yorick comes from the famous work, Hamlet, but this is a fun play on what his life might be like if he were to suddenly arise today.
Find it: NEW JGR TAN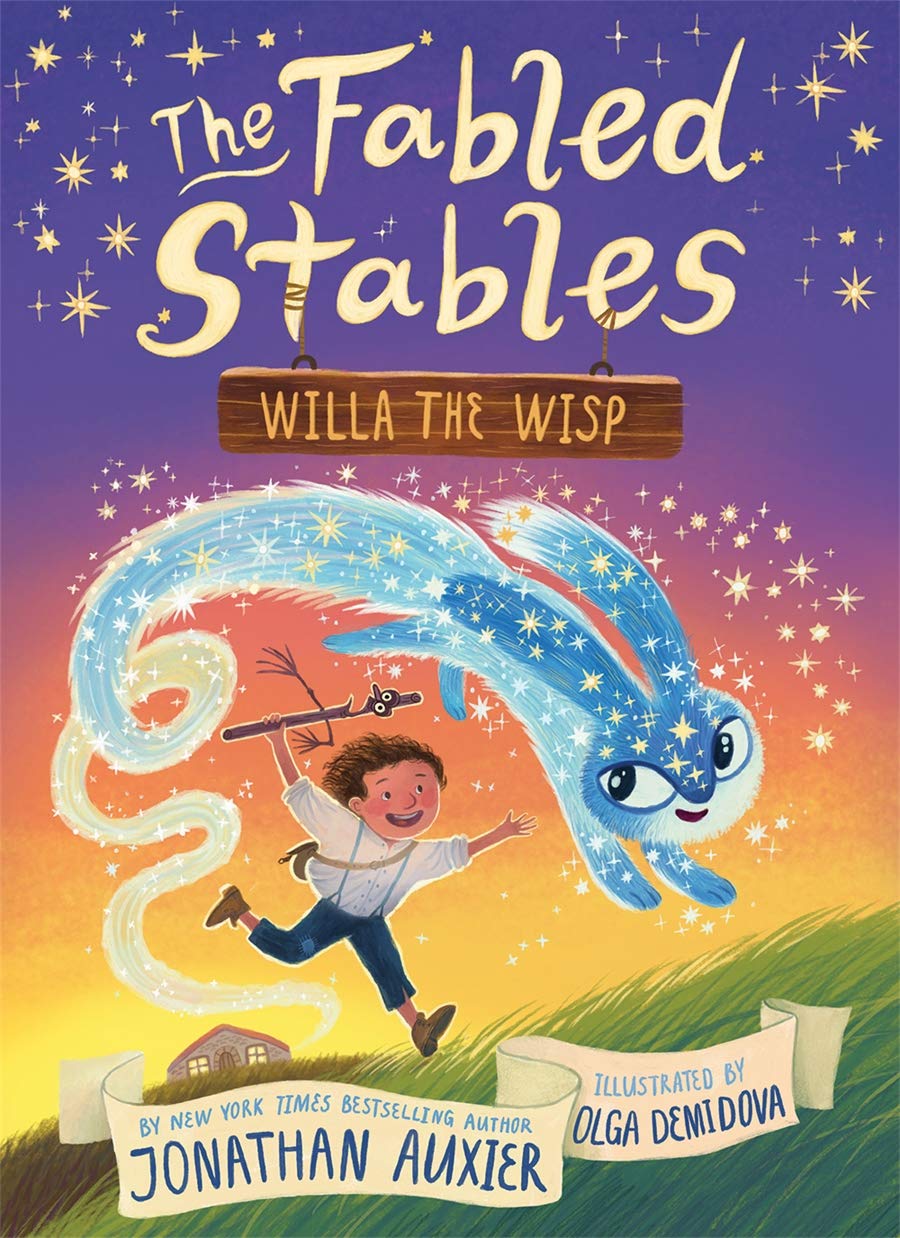 Willa the Wisp
(Fabled Stables #1)
by Jonathan Auxier
Welcome to the Fabled Stables, a magical building filled with one-of-a-kind creatures. Creatures including the Gargantula, the Yawning Abyss, the Hippopotamouse . . . and Auggie. Auggie is the only human boy at the Stables, and he takes care of all the other animals. The Fabled Stables have a mind of their own, and every so often, the building SHAKES and SHUDDERS, TWITCHES and SPUTTERS—it's making room for a new arrival! It's Auggie's job to venture out and rescue a new creature from mortal danger. But will he be able to complete his mission before it's too late? With some help from Fen (a literal stick-in-the-mud) and his animal companions, Auggie saves the day and makes a new friend in the process.
Verdict:  This series is great for beginning readers.  It's fully illustrated with beautiful colors and features lots of interesting creatures.  It's a fast read but also contains 'chapters' so you don't loose your place if you have to set it down for a bit.  Any lovers of animals or fantasy will enjoy this brand new series!
Find it: NEW J FIC AUX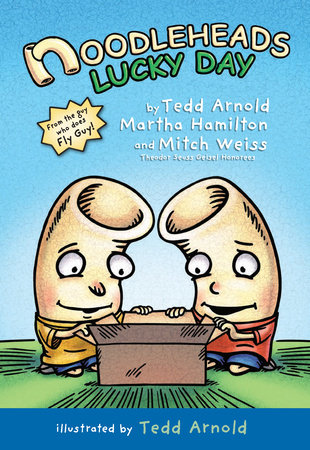 Lucky Day
(Noodleheads #5)
By Tedd Arnold
Twin brothers Mac and Mac are soooo lucky. How lucky are they?
• When they get hit on the head with an acorn, they're lucky that little acorns and not big watermelons grow on trees.
• When their frenemy Meatball gives them a bag full of bees, they're lucky that Mom has just built a beehive to put them in.
• And when their watermelon DOESN'T hatch a kitten, they're lucky that there's another way to get a pet.
Verdict: From the creator of Fly Guy comes Noodleheads! These graphic novels contain several chapters all revolving around a central theme – this one is Lucky Day! The content is very silly and definitely reflects the stories that kids tell in elementary school. Every one is sure to have a laugh (or an eye roll!) with the Noodleheads.
Find it: NEW JGR ARN
Raise Your Voice
By Jeffrey Kluger
From the Boston Tea Party to the suffragists, from the Montgomery Bus Boycott to Stonewall, peaceful (and not-so-peaceful) protest has been a means of speaking up and enacting change from the very founding of America. This new collection recounts twelve of the major protests throughout the country's history, detailing the people behind them, the causes they marched for, and the impact they had.
Verdict:  A concise, non-partisan recount of 12 major protests, including the Boston Tea Party (1773), Seneca Falls Convention (1848), Triangle Shirtwaist Factory (1911), Montgomery Bus Boycott (1955-1956), March on Washington (1963), Democratic Convention (1968), Stonewall Uprising (1969), Earth Day (1970), March Against Nuclear Weapons (1982), ACT UP (1987), Women's March (2017), and the Dakota Access Uprising (2016-2017).  It will help children begin to understand the history of protests, how they are used, and what effects they can have.  Of course, it will also likely raise more questions about why things happen – so be prepared to check out more nonfiction to find those answers
Find it: NEW J 303.48 KLU
Read-A-Likes
Book recommendations based on what book you already love!
Click on the book title to find your next favorite read-a-like.