Learn about some of our new books from our Youth Services Librarian.
Keep checking back for NEW books!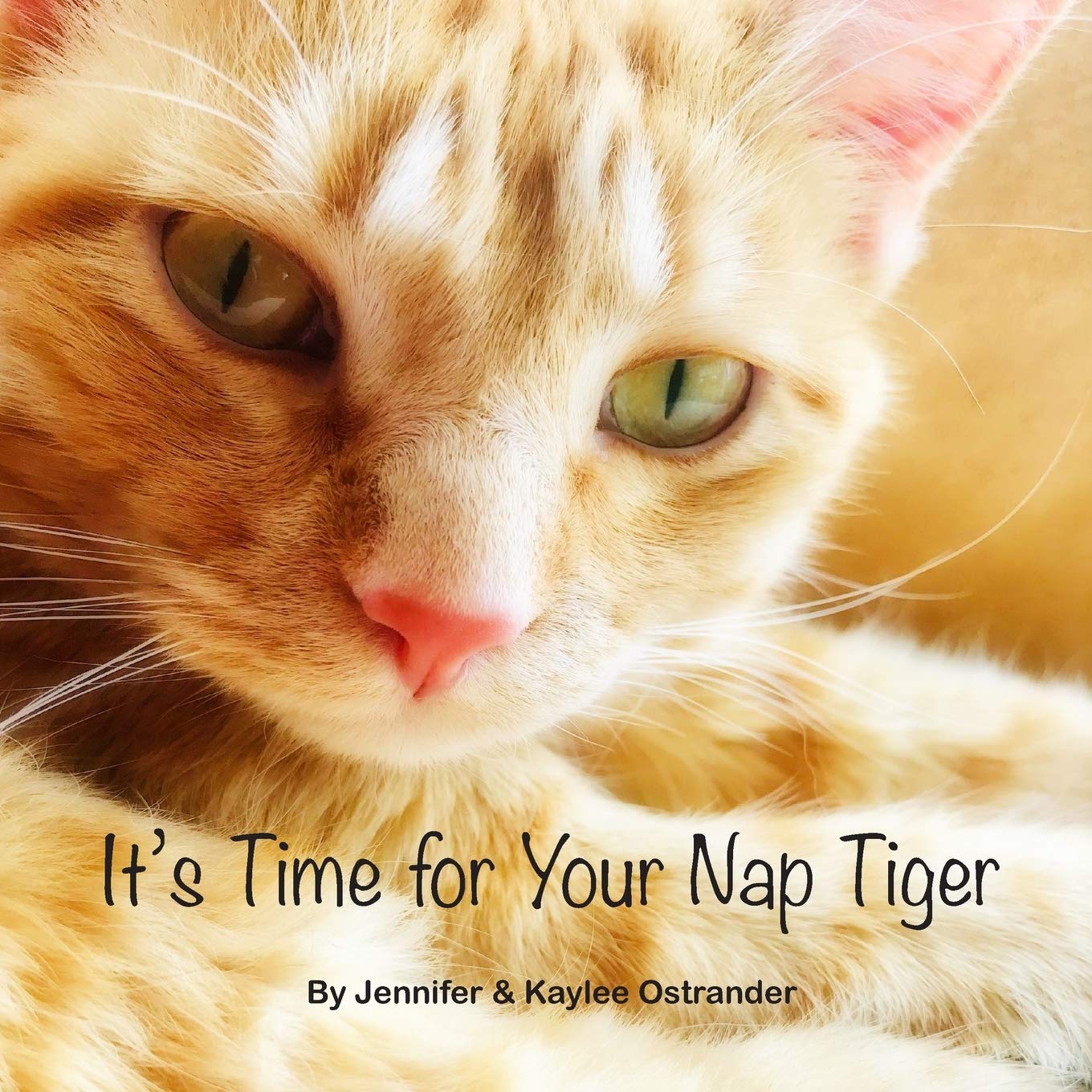 It's Time for Your Nap Tiger
by Jennifer & Kaylee Ostrander
The darling orange tabby cat named Tiger who stars in this book will do anything to avoid taking his nap. Read along in this extra cute book full of high quality photos of a real orange tabby cat to find out what finally changes his mind about his nap.  It's time for your nap Tiger!
Verdict:  Cat lovers rejoice – Tiger is here!  An all-too-true tale of avoiding a nap that is sure to appeal to children and adults.  The dialogue between Tiger and the narrator mirrors a relationship between a young child and their caregiver.  Check out this local authors book today!
Find it: PIC OST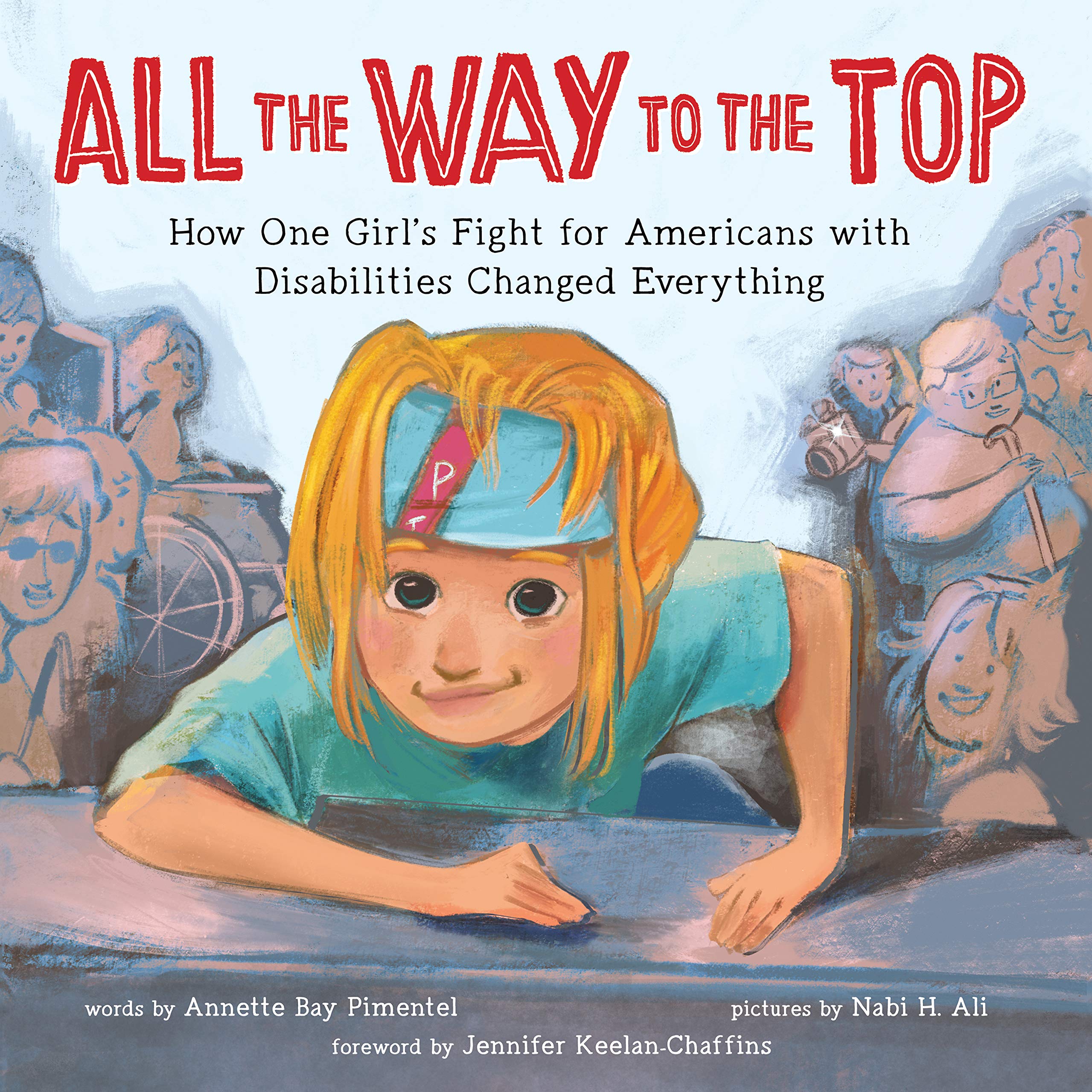 All the Way to the Top
By Annette Bay Pimentel
Jennifer Keelan-Chaffins never wanted her wheelchair to slow her down, but the world around her was built in a way that made it hard for people with disabilities to do even simple things like go to school or eat lunch in the cafeteria.   When the Americans with Disabilities Act (ADA) was proposed to Congress to make public spaces accessible to everyone, Jennifer joined activists in Washington, DC for what became known as the Capital Crawl.
Verdict:  A wonderful, albeit brief, introduction to the ADA and the struggles that people with disabilities can face on a daily basis.  It'd be a great picture book to share when children start asking questions about the differences they notice in people, or even better, before they start asking!
Find it: J B KEE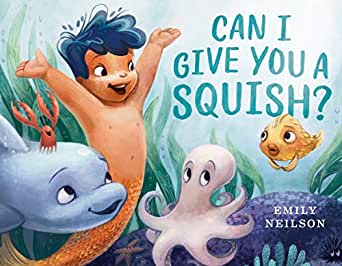 Can I Give You a Squish?
By Emily Neilson
Kai loves hugs.  But not everyone enjoys his "squishes," as he and his mermaid mama call them.  When Kai tries to squish a shy puffer fish, the creature swells up in fright and hides!  Kai feels awful – until he and his bubbly band of buddies figure out other ways to greet new friends.
Verdict:  A cute story to relay the importance of asking rather than assuming.  As we grow, we learn that everyone is different and likes different things.  For youngsters, that can be a hard thing to wrap their head around (you mean not everyone likes the TV show I like?!?) but this book does a nice job broaching the subject!  Plus, there are mermaids and all kinds of fun sea creatures!
Find it: PIC NEI
Wild About Dads
by Diana Murray
Dads can help you reach up high,
and help to keep you warm and dry.
Dads are strong, dads are brave,
but sometimes dads could use a shave.
Everyone loves dads―humans, lions, frogs, prairie dogs, and even pelicans! See all these animals snuggle their little ones in this sweet, rhyming picture book that celebrates fatherhood in its many forms.
Verdict: A great book for dads of all kinds – Perfect for sharing for Father's Day! The storyline is simple, so maybe better suited for younger readers and their caregivers, but it's filled with lots of animals and kids will surely enjoy pointing out all the 'babies' and 'daddies' on the pages.
Find it: PIC MUR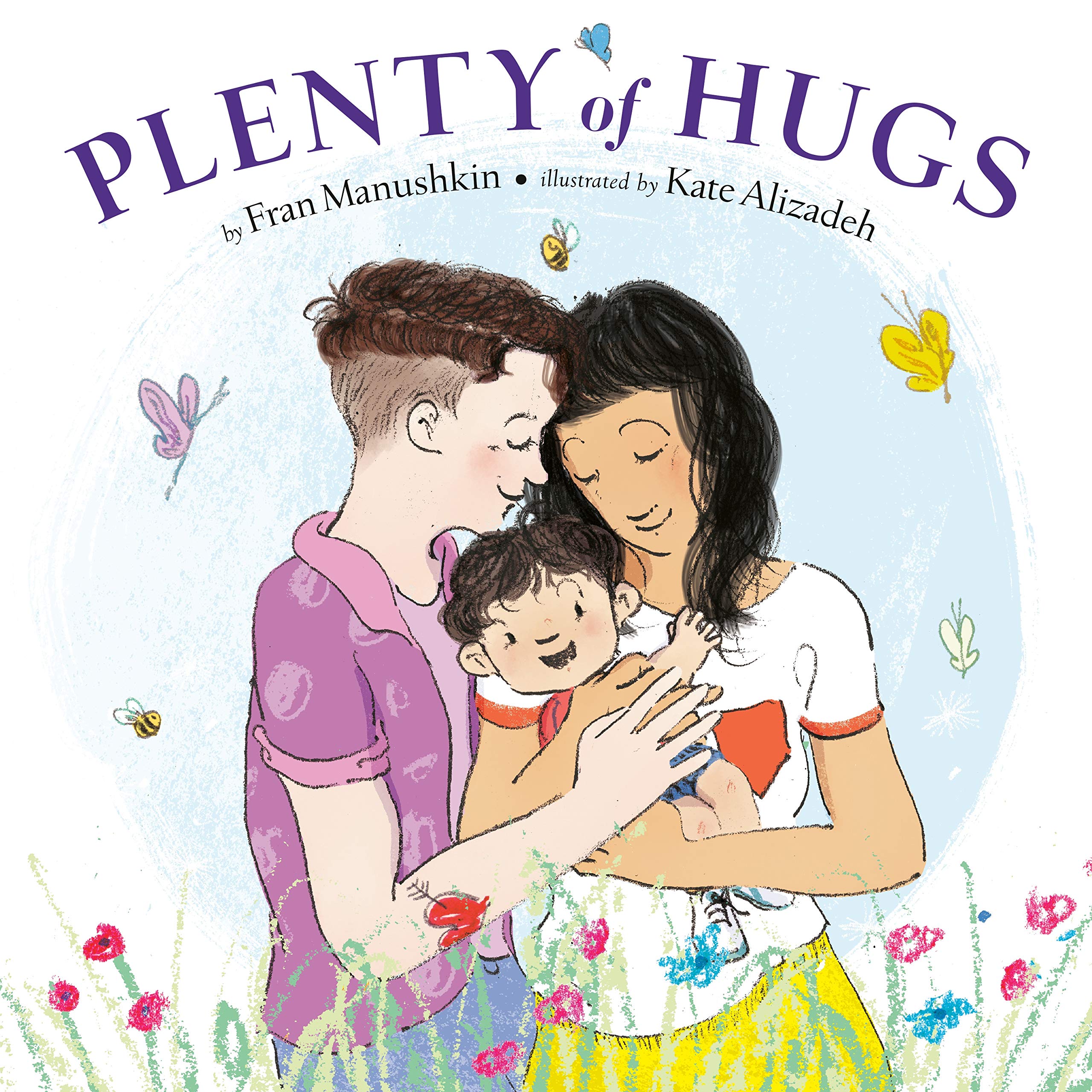 Plenty of Hugs
by Fran Manushkin
This cheerful book follows a family from morning to night in lively rhyme that rolls off the tongue. There's a buzz for each bug, and a breeze for each tree, and plenty of hugs for you and me. The toddler and mommies take a morning bike ride to a farm stand, they visit a zoo in the afternoon, and in the evening there's the bath and storybook routine before the child is tucked cozily into bed. There are seas for ships and kisses for lips, so we can whisper I love you! 
Verdict: A cute rhyming story that will be loved by any family!  The story line is really a love letter from parents to their child and shows them exploring their world throughout the day.  I especially appreciate the language used to describe the mommies – and my strong arms to carry you!
Find it: PIC MAN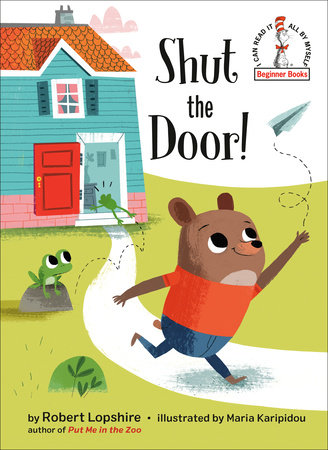 Shut the Door!
by Robert Lopshire
When a little bear forgets to close the door to his house, he encounters a series of unwelcome (and untidy) visitors–including a swarm of flies, an egg-loving skunk, and a moose in search of a bath! This rhymed easy-reader by Robert Lopshire–author of Put Me in the Zoo and I Want to Be Somebody New!–is perfect for beginning readers, and its surprise ending will leave kids giggling with glee while reinforcing the message that we ALL need to be responsible for our actions.
Verdict: At first I wasn't sure about this book, but it turned out to be a fun read with a great twist at the end.  As a parent, we've probably all said, "Shut the door!" or "Turn off the lights!" or something similar, and this book is an exaggerated version of what can happen when we don't!  The story is longer than some easy readers so beginning readers may need helping getting through it but it's long enough to be interesting to those that are starting to transition to chapter books.  Check it out for yourself today!
Find it: E LOP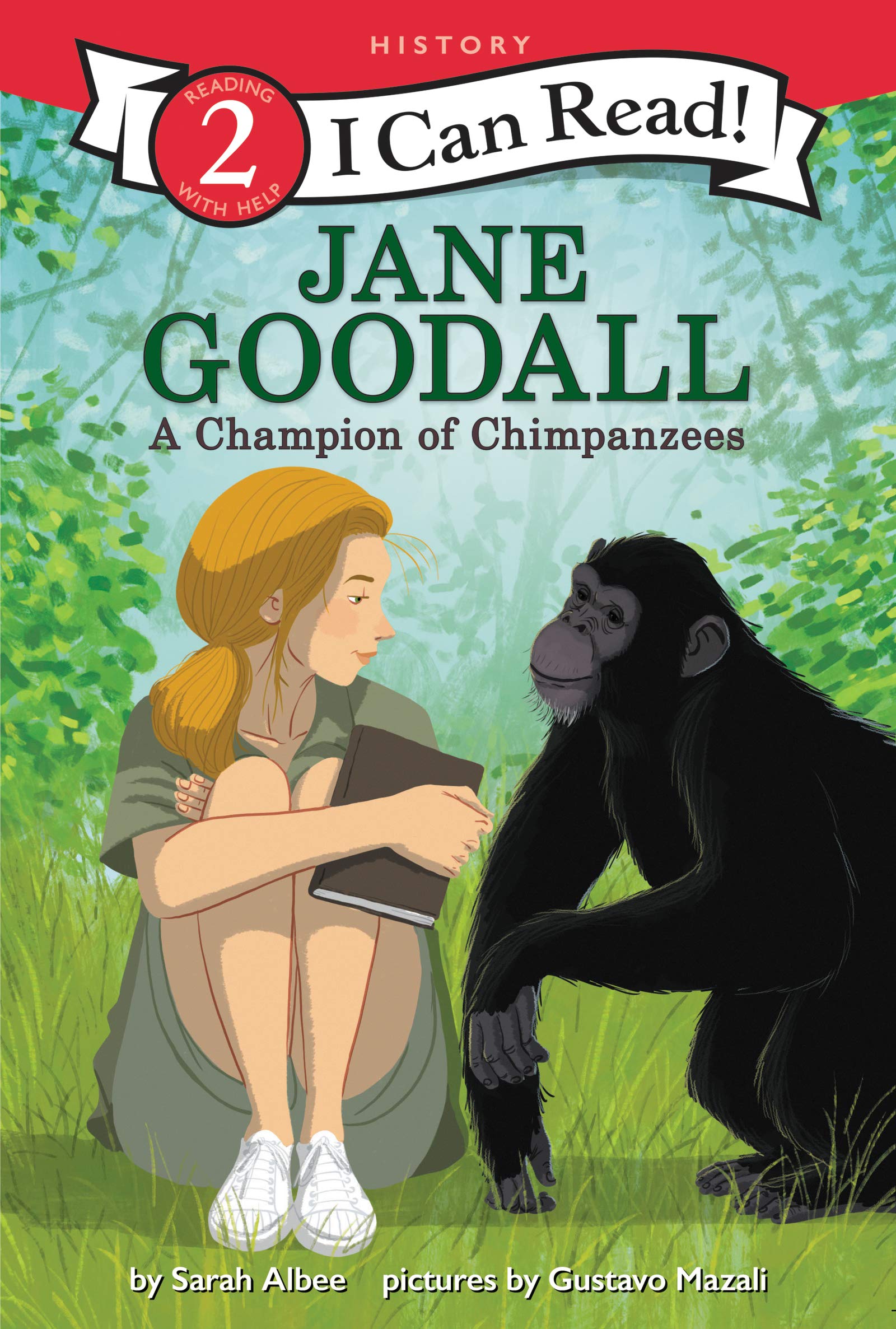 Jane Goodall: A Champion of Chimpanzees
by Sarah Albee
Jane Goodall was the first person to study wild chimpanzees up close in a rain forest. She befriended the chimps and discovered amazing facts about their behaviors. What she learned forever changed how people look at these animals. This biography includes a timeline and photos all about the life of this inspiring scientist.
Verdict: Any fans Jane Goodall, animals, or chimpanzees in particular, will enjoy this Easy Reader biography.  After learning about Dr. Goodall, there are facts about chimpanzees in the back, as well as additional question and answer text for further investigation. 
Find it: E B GOO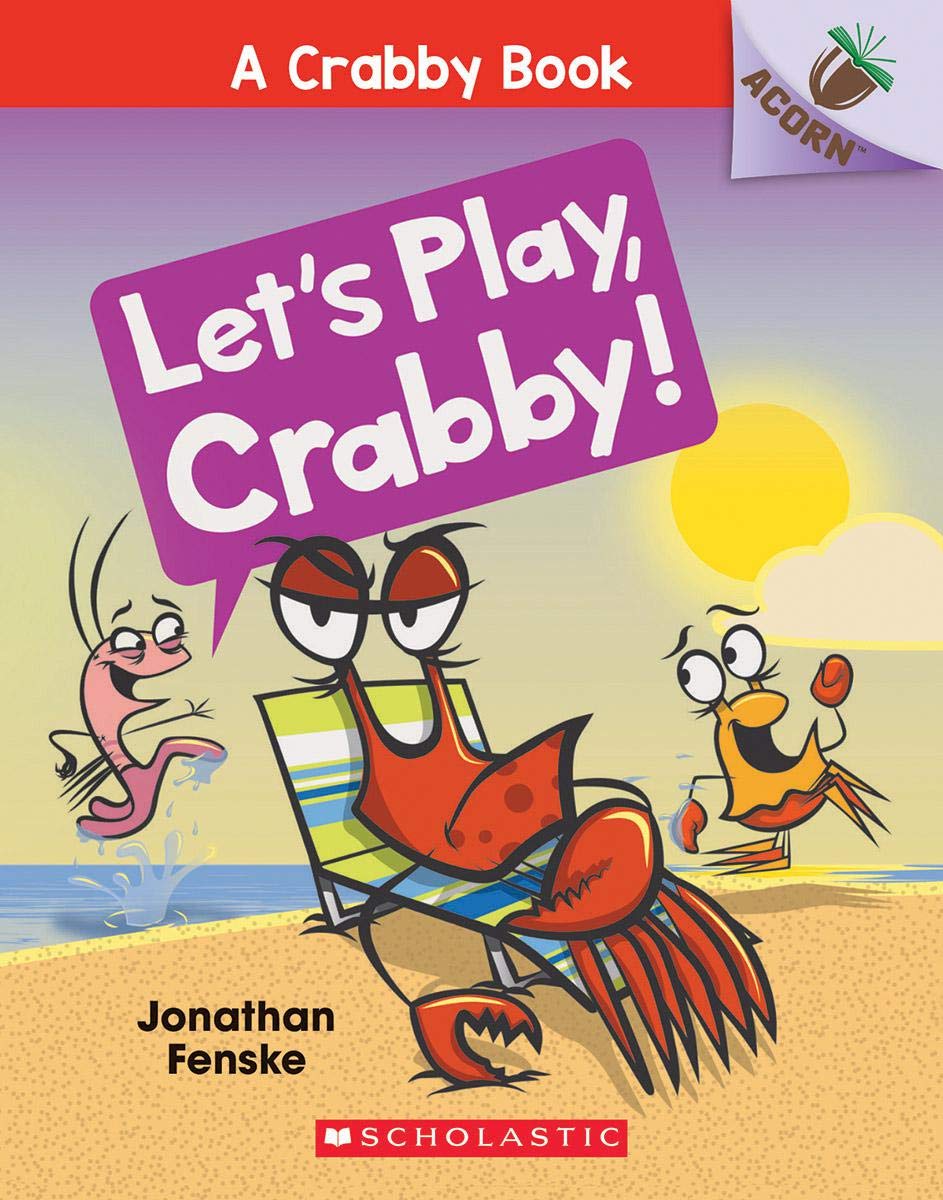 Let's Play, Crabby!
by Jonathan Fenske
Plankton wants Crabby to play a game. Plankton tries to get Crabby to play Simon Says, Tag, and Hide-and-Seek. But Crabby does NOT want to play with Plankton. Will Plankton give up? Or will Crabby finally play along? With comic speech bubbles and full-color artwork throughout, the series is sure to be a hit with new readers!
Verdict: I love the Scholastic line of books with different 'tiers' for different readers.  Acorn is their Easy Reader line and is great as a transition before chapter books.  At 44 pages, this book is longer than a lot of other easy readers, but is still simple enough for those just learning to read on their own.  Most pages have more than just one line of text, but most are short sentences.  Bonus: at the end, you get to learn how to draw Plankton! 
Find it: E FEN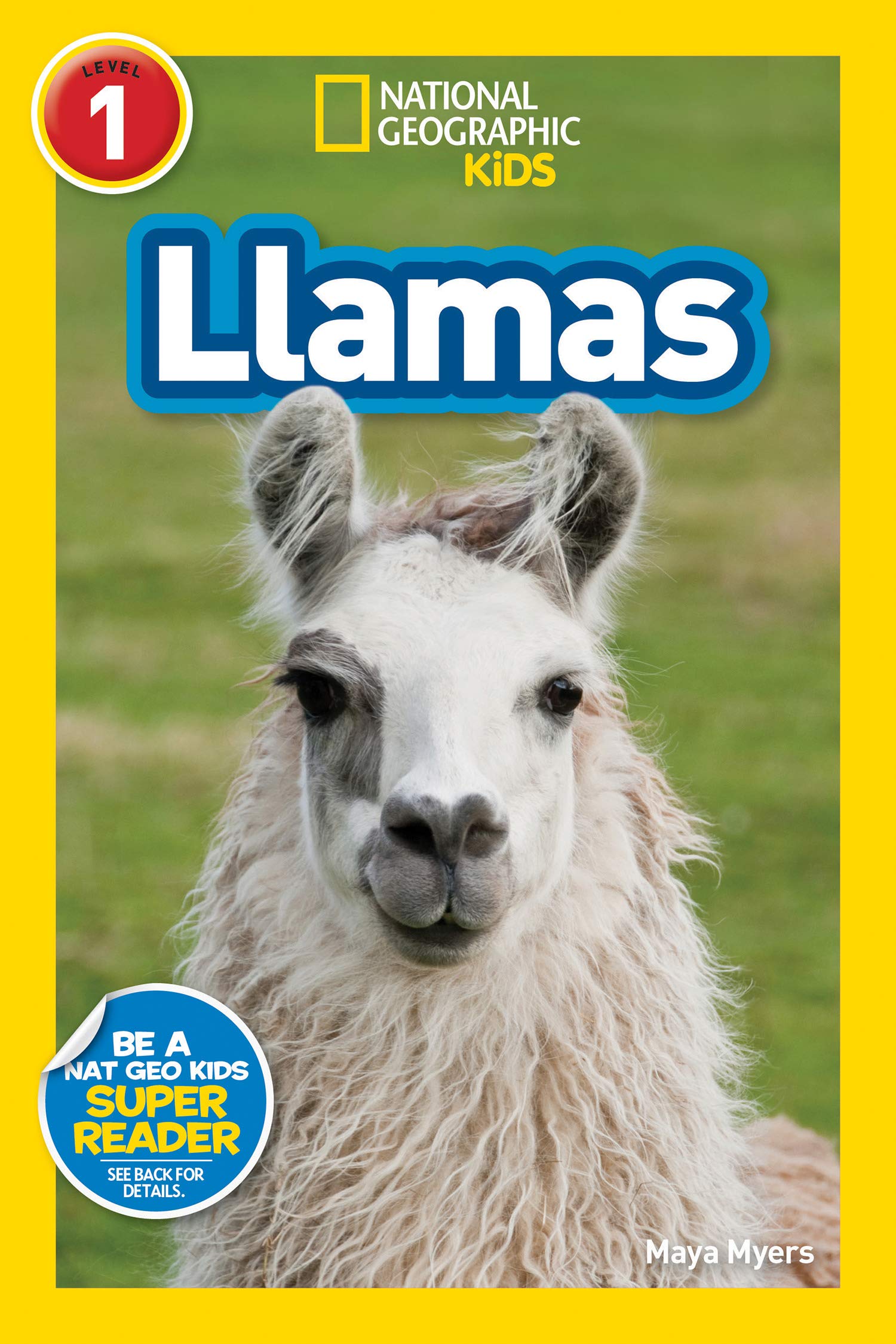 Llamas
by Maya Myers
Learn all about the fascinating lives of llamas–including what they eat, where they live, how they help people, and their behavior in this new National Geographic Kids Reader. The level 1 text provides accessible, yet wide-ranging, information for beginning readers.
Verdict: Llamas are quickly becoming a new favorite animal for many, and this book will only reinforce that!  This book is full of fun facts, vocabulary words, jokes, great photos, and a fun trivia game at the end.  Did you know llamas can weigh up to 440 pounds?  That's just one of the many things you'll learn if you check out Llamas! 
Find it: E 599.63 MYE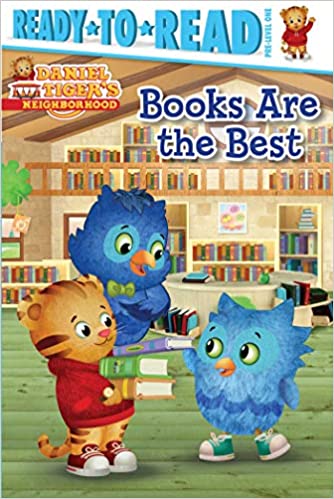 Books are the Best
by Maggie Testa
It's storytime at the library! Right away, Daniel and O find a really cool pop up-book and can't wait for O's Uncle X to read it to them. But as soon as Uncle X begins, O looks around and gets distracted by all of the other great books! Can O's uncle teach him to focus on what's special about the book they are reading at that moment before moving on to the next?
Verdict: Children familiar with the TV show will love the Daniel Tiger easy readers!  I particularly like this one because the text tells a full story.  Many easy readers have page after page of the same text but with a slight change in a word or a letter – this is, instead, a simply written narrative of the episode.  It also comes with a moral, like most Daniel Tiger stories, of "Enjoy the wow that is happening now," which is a great lesson for any age!
Find it: E TES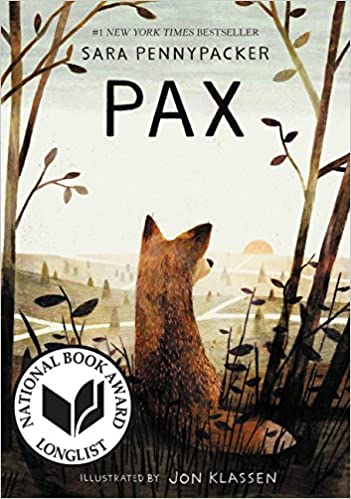 Pax
By Sara Pennypacker
From the day Peter rescued Pax as a tiny fox kit, the two were inseparable.  That is, until Peter's dad is sent off to war, Pax is turned loose in the forest, and Peter goes to live with Grandpa.  Peter sneaks out to find his fox while Pax anxiously awaits the return of his boy.   Both endure many adventures along the way, but will they ever be reunited?
Verdict: Though penned for the 8-12 age range, this emotional story will grip readers of all ages.  Having grown up with Peter, Pax has a lot to learn when he's suddenly thrust into the forest with challenges all new.  Likewise, Peter must face the truths of war, grief, and loyalty while fleeing from one home (Grandpa's) to find his true home with Pax.  This book will appeal to animal lovers, those with interests in war novels, and those that just enjoy a good, heartwarming tale.
Find it: J FIC PEN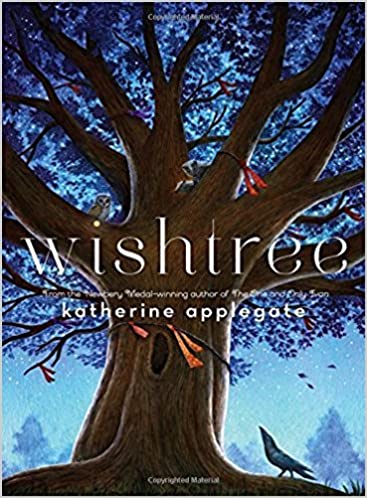 Wishtree
By Katherine Applegate
Every year, the neighborhood people write wishes on pieces of cloth and tie them to the branches of a tree. This tree is Red, an old oak tree.  Red watches over the neighborhood and is sure she's seen it all.  That is, until a new family moves to town.  Not everyone is welcoming, which makes Red's role even more important.
Verdict: When I chose this book, I was looking for a short audiobook for a trip I was going on.  Little did I know I'd stumble upon a gem of a story.  Yes, the book is a nice story about a tree and it's [highly anthropomorphized] animal inhabitants, but it's also so much  more than that.  Themes of inclusion, friendship, religious tolerance, and the power of wishes will resonate with readers.
Find it: J FIC APP; JCD APP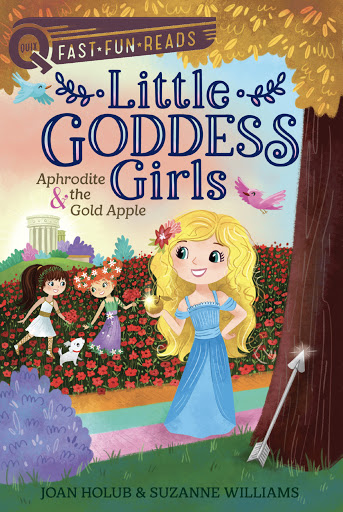 Aphrodite & the Gold Apple
(Little Goddess Girls #3)
by Joan Holub & Suzanne Williams
The Little Goddess Girls series features Athena, Persephone, Aphrodite, and Artemis as they adventure on the magical Mount Olympus.  In the third book, Aphrodite is hoping to have friends, but she tends to speak before she really thinks about the words coming out of her mouth and upsets a lot of people!  On this adventure, she hopes that Zeus will grant her the gift of likability.
Verdict:  This series is great for those readers transitioning to chapter books.  It features only a few pictures, but the text is large and spaced so that beginning readers can easily follow the story along the page.  As hinted at by the titles, this series pulls ideas from Greek mythology, but it also borrowed ideas from The Wonderful Wizard of Oz by L. Frank Baum.  It's a fun literary combination and will be sure to keep readers entertained.  The Goddess Girls are 8 years old in this book and seem to pretty accurately portray how children that age would interact.
Find it: J FIC HOL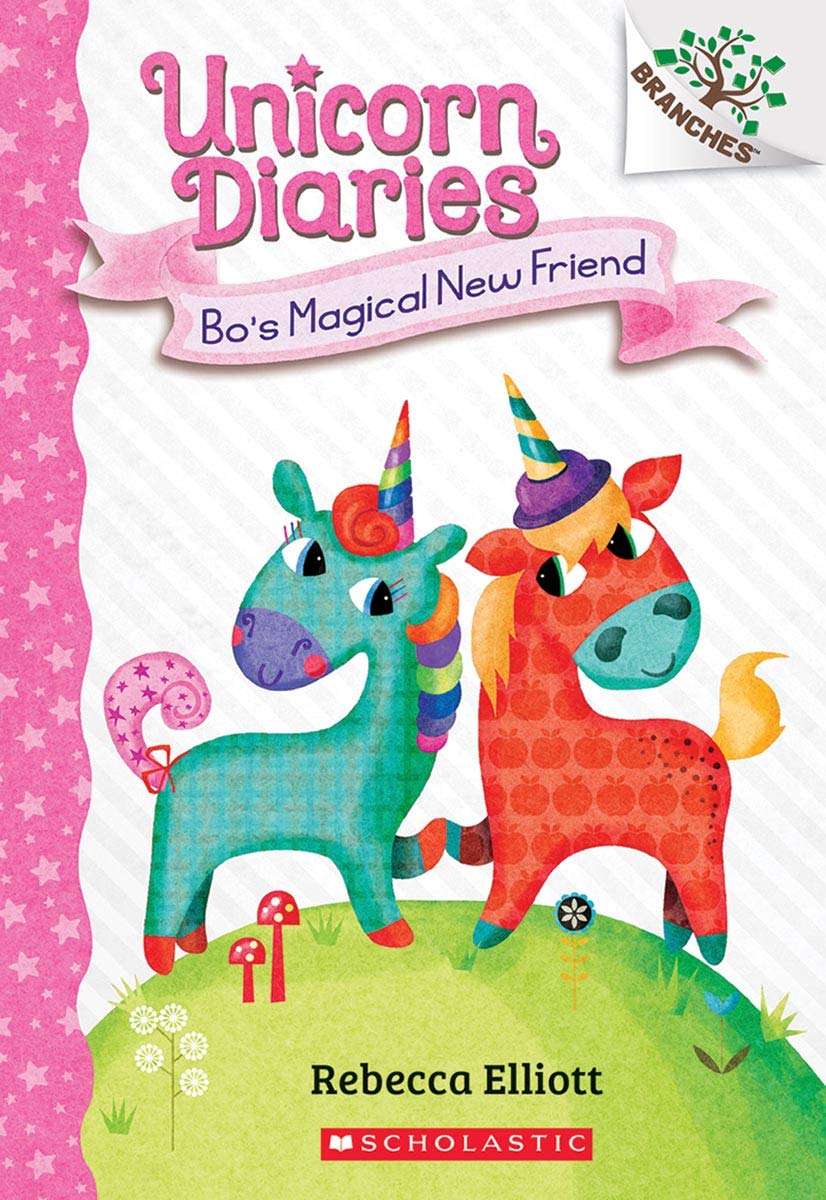 Bo's Magical New Friend
(Unicorn Diaries #1)
By Rebecca Elliott
Rainbow (Bo) Tinseltail live in Sparklegrove Forest and loves attending Sparklegrove School for Unicorns.  But, what Bo really wants is a best friend.  Then, a new magical unicorn, Sunny, arrives in the forest.  Will Bo be able to fulfill the wish of finding a new best friend?
Verdict:  Written like a diary (as the series name suggests), this book is filled with illustrations and is perfect for readers transitioning into longer, chapter books.  The story is cute and will keep readers entertained, but my favorite part is the comprehension questions at the back of the book!  If your young reader is having issues with comprehension (and likes unicorns!), this book may be a good tool to help bridge the divide.  Of course, any lover of unicorns will enjoy the book as well!
Find it: J FIC ELL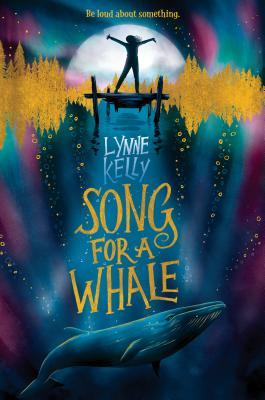 Song for a Whale
By Lynne Kelly
Twelve-year-old Iris is a tech genius.  She's also the only deaf child at her school, and often gets treated like she isn't very smart.  When she learns about Blue 55, a whale who isn't able to speak to other whales, she instantly feels as though they have a connection.  Iris believes she can create a way to 'sing' to him; But, the whale is 3000 miles away!  How will Iris ever play her song for Blue 55?
Verdict:  While there are lots of board books that include sign language and plenty of biographies on Helen Keller, there are not a lot of juvenile novels that portray a deaf protagonist.  This book will certainly  appeal to those that feel as though they don't fit in, readers with disabilities, the animal lovers, and the techie group!  A wonderful feel-good story.
Find it: J FIC KEL