Iowa Storytelling Festival
What started in 1989
The Clear Lake Public Library first sponsored the Iowa Storytelling Festival in 1989.  It was intended to be a one-time special event in celebration of the library's centennial.
Became an Annual Event
The festival was so well received that it became an annual event, and thousands of persons of all ages have enjoyed the festival in the years since.  The festival's beautiful lakeside setting draws audiences from Iowa and beyond.  The festival has hosted many outstanding storytellers and that tradition continues with this year's featured performers.
Iowa Storytelling Festival 2023!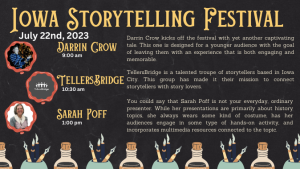 The Iowa Storytelling Festival is an annual event that occurs at the end of summer reading. Normally, we try to bring in new speakers and storytellers each year, but this year we decided to bring back some crowd favorites including this year's Ghost Boat storyteller, Darrin Crow, who will also be doing a children's performance Saturday morning. You won't want to miss these great performers!
The Ghost Boat cruise is going to function a little bit differently than in years past. In order to ensure that everyone is able to hear Darrin and really enjoy the experience, he will be performing dockside from 6:00 – 8:00 pm. At the conclusion of his performance, we will cruise around the lake until 9:30 pm.
The Ghost Boat is our only event in the entire year that we require the purchase of a ticket for admission. These funds go directly to our Foundation to fund various projects throughout the year.
Darrin Crow – 9:00 am
TellersBridge – 10:30 am
Sarah Poff – 1:00 pm
2018's Iowa Storytelling Festival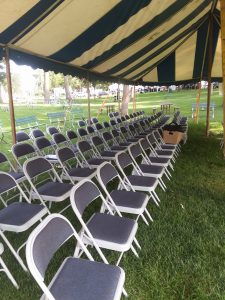 Leslie Goddard: Ghost Boat Performance
The Ghost of Violet Jessup
Sunset aboard the Lady of the Lake / Ghost Boat
Pete Grady: Unconditional Surrender – Ulysses S. Grant
Paul Siebert: Music From the Wagon Trails of the Midwest
WonderWeavers! A Bug Jug Jamboree
Are you interested being a performer for 2023's Iowa Storytelling Festival?
Please contact Aaron at the Clear Lake Public Library
Email: clplassist@gmail.com
Phone: 641-357-6133